My today's recipe is devoted to all my dear brothers. I wish them a very "Happy Rakshabhandan". May god shower them with a healthy and wealthy life. May they always stay happy and blessed.
We celebrate different festivals with different sweets. Some people want to make them at home while others prefer to buy from outside as they are short of time. The sweets from the shops look tempting, but are they made with pure products and under hygienic conditions? and are they preservative free? These questions always make me think before buying them. During the festival time, the shopkeeper always has to work under pressure to fulfill the demand, hence many of them cannot maintain the hygiene level and purity in making those sweets. I always prefer to make sweets at home and celebrate the festival by trying to make all eat healthy and clean. They are economical too.
To celebrate the festival of Rakshabhandan I have prepared Chocolate Milkpowder Burfi. This is a very quick sweet recipe which can be prepared within half an hour and it comes out very well. Why buy store sweet when you can prepare this quick treat for your brothers! Homemade sweets are without any adulterations and when you prepare with your hands for someone you care and love you feel happier !!
Chocolate is loved by all age groups and hence have made this chocolate Milk Powder which can be enjoyed by everyone at home.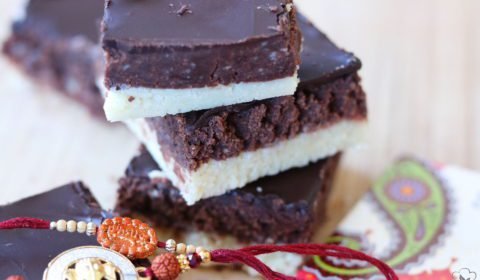 Print
Chocolate Milk Powder Burfi
A very quick Indian Sweet made from Khoya, modified and made from Milk Powder. It is a two layer sweet. One layer has coconut flavor and other has the chocolate flavor.
Instructions
Heat a non-stick pan on low heat and melt ghee on it.

After the ghee is melted, add milk in it and stir well.

Now add the milk powder and mix well.

Add the sugar and mix well.

Keep on stirring the mixture on low heat.

After 5-6 minutes, it will start getting thicker. Keep on stirring constantly on low heat.

After 10 minutes, it will start leaving edges and form like a dough. The mixture will come in the center leaving the edges. Immediately remove from heat and do not overcook it or else It will become chewy.

Divide the mixture into two parts.

Take one part in the pan and add desiccated coconut into it. Keep low heat. Mix well.

Add vanilla essence and mix well.

It will form like a dough. Remove from heat.

Keep a greased plate ready and put the mixture into it and spread it evenly on the plate. Smooth it with a flat spatula or hand.

Put cocoa powder into another part of the mixture.

Put it on a low heat and mix well. The mixture will come together and form a dough.

Put the cocoa mixture over the coconut layer and spread it evenly over it.

Smoothen it with a flat spatula or hands.

In a bowl take cooking dark chocolate compound.

Microwave it for 30 sec and more till the chocolate is melted.

Spread it on the chocolate layer.

Tap it in all directions, It will spread evenly. Keep it to set for 1-2 hours.

Cut and serve in pieces.
Notes
Note:
Always use a non-stick pan for making this burfi.
Cook the mixture on low heat.
Once the mixture is cooked and starts leaving the edges of the pan and gathers together and looks like a dough, remove pan from heat. Overcooking the mixture will result into chewy burfi.
Nutrition
Calories:
249
kcal
|
Carbohydrates:
33
g
|
Protein:
14
g
|
Fat:
8
g
|
Saturated Fat:
5
g
|
Polyunsaturated Fat:
0.1
g
|
Monounsaturated Fat:
1
g
|
Cholesterol:
11
mg
|
Sodium:
181
mg
|
Potassium:
42
mg
|
Fiber:
1
g
|
Sugar:
31
g
|
Vitamin A:
750
IU
|
Calcium:
370
mg
|
Iron:
0.4
mg