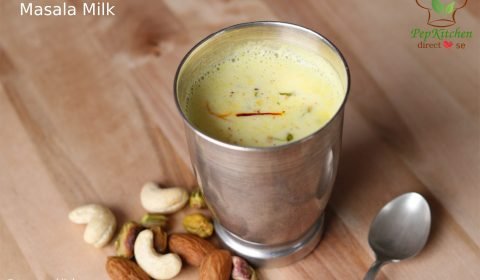 Print
Masala Milk
Masala Milk is a healthy drink enriched with powdered dry nuts and is flavored with saffron and cardamom powder. It is good to have it warm in cold or as a chill milkshake on hot days.
Making powdered nuts
In a grinder or mixer add chopped almond, cashew nut, and pistachio.

Grind into a fine powder. The powdered nut mixture is ready. Store in an airtight container and refrigerate. It makes around 12 tsp of mixture.
Preparing Masala Milk
Take one cup milk in a pan. Put it to heat. Add sugar to it. Mix well.

When milk gets warm add saffron to it.

Mix it well.

Add the powdered nuts.

After 2-3 minutes milk starts to boil. Add cardamom powder to it.

Mix it well and let milk boil on medium heat.

Boil for 7-8 minutes on medium heat. The milk will start to thicken. Boil for 1 more minute. Take off the heat.

Masala milk is ready.

The masala milk ready to serve. Garnish with sliced pistachio and sprinkle cardamom powder.
Calories:
302
kcal
|
Carbohydrates:
19
g
|
Protein:
10
g
|
Fat:
23
g
|
Saturated Fat:
3
g
|
Polyunsaturated Fat:
5
g
|
Monounsaturated Fat:
13
g
|
Cholesterol:
2
mg
|
Sodium:
125
mg
|
Potassium:
398
mg
|
Fiber:
4
g
|
Sugar:
8
g
|
Vitamin A:
50
IU
|
Vitamin C:
0.8
mg
|
Calcium:
40
mg
|
Iron:
1.3
mg