Masala Milk is a very healthy beverage made by boiling the milk along with powdered nuts mixture, saffron, and cardamom. If you like you can also add nutmeg. It is good to have it hot in winter and cold in summer.
Masala milk is very often made in our house. My son loves the taste and calls it is "peda doodh" due to the flavors of cardamom and saffron infused in milk. My mother in law makes it for "Lalji(Krishna)". She makes it as an offering to Him during festivals, auspicious occasions or on birthdays of family members. I love her way and I also follow the same.
Besides that, we also make it during Holi, Diwali, Navratri or Sharad Poornima (Khojagiri Poornima). We serve it to the people coming for a pooja ceremony or bhajans at home. We sometimes take it as a normal hot drink during winter or like a milkshake during summer.
I try to make the powdered nuts mixture at home whenever I have time and store it in an airtight container. I refrigerate it and use whenever needed. I also make the powdered cardamon at home and store. If we have these mixtures ready then making masala milk is just 10 minutes job. Some people prefer to grind cardamon and saffron along with the powdered nuts and store it together.
Some people also add a pinch of turmeric powder to masala milk to give that nice yellow color as saffron is costly and you need more for the color. Turmeric is also good for the body.
Usually, most of the people associate to make masala with full-fat milk. It makes milk creamier. However, I prefer using low-fat milk for regular intake of it.The choice of nuts to be powdered depends on personal taste. Some people prefer to use more almonds than cashew nuts. Or some want to add walnuts with the other nuts. Some people want to use pepitas or other seeds.
You get ready-made masala milk powder. I have used them. They are good but I prefer to make it at home for the purity of the products used since I am then assured that I am using good quality dry nuts and pure saffron and cardamon. It takes only a few minutes to make at home.
Make it a habit for your children to have the homemade masala milk hot or cold. It is better than the ready-made flavored milk powders available. It is good to for pregnant ladies to have daily.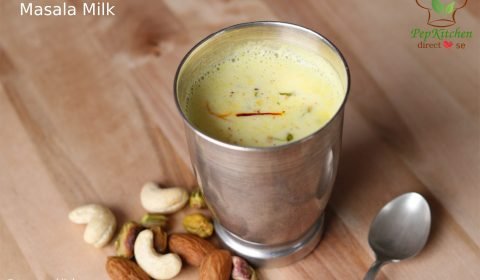 Print
Masala Milk
Masala Milk is a healthy drink enriched with powdered dry nuts and is flavored with saffron and cardamom powder. It is good to have it warm in cold or as a chill milkshake on hot days.
Instructions
Making powdered nuts
In a grinder or mixer add chopped almond, cashew nut, and pistachio.

Grind into a fine powder. The powdered nut mixture is ready. Store in an airtight container and refrigerate. It makes around 12 tsp of mixture.
Preparing Masala Milk
Take one cup milk in a pan. Put it to heat. Add sugar to it. Mix well.

When milk gets warm add saffron to it.

Mix it well.

Add the powdered nuts.

After 2-3 minutes milk starts to boil. Add cardamom powder to it.

Mix it well and let milk boil on medium heat.

Boil for 7-8 minutes on medium heat. The milk will start to thicken. Boil for 1 more minute. Take off the heat.

Masala milk is ready.

The masala milk ready to serve. Garnish with sliced pistachio and sprinkle cardamom powder.
Nutrition
Calories:
302
kcal
|
Carbohydrates:
19
g
|
Protein:
10
g
|
Fat:
23
g
|
Saturated Fat:
3
g
|
Polyunsaturated Fat:
5
g
|
Monounsaturated Fat:
13
g
|
Cholesterol:
2
mg
|
Sodium:
125
mg
|
Potassium:
398
mg
|
Fiber:
4
g
|
Sugar:
8
g
|
Vitamin A:
50
IU
|
Vitamin C:
0.8
mg
|
Calcium:
40
mg
|
Iron:
1.3
mg