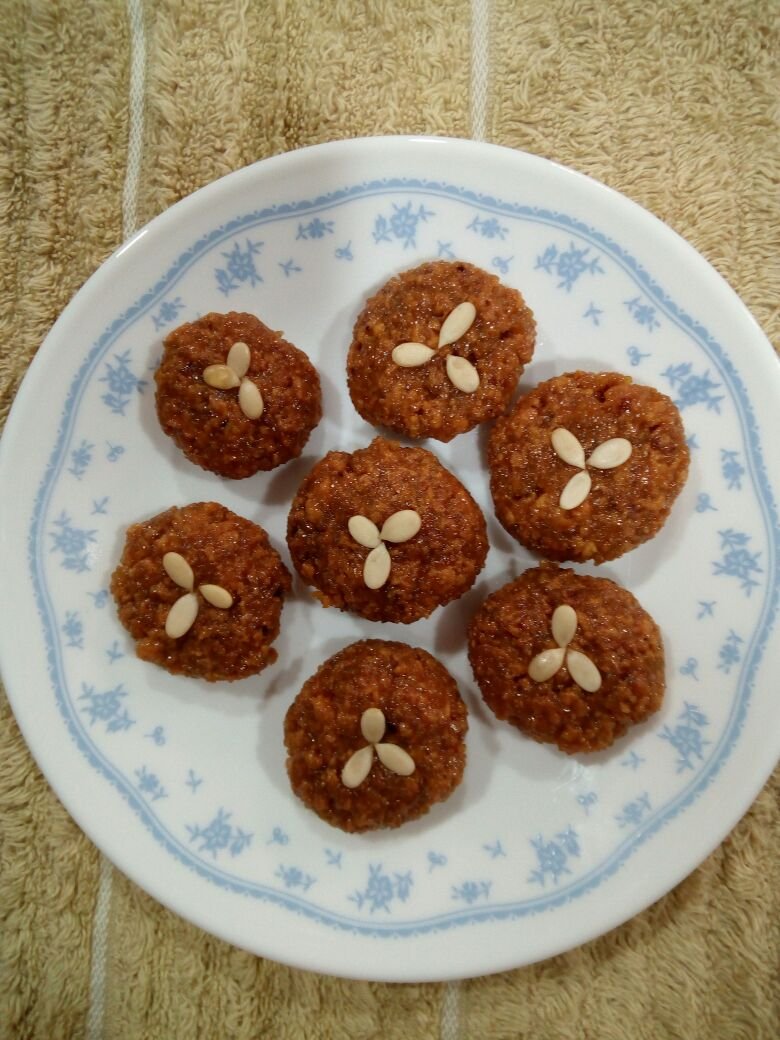 This Recipe has been contributed by Khyati Shah
Halwasan is the traditional Indian sweet from Khambhat (Cambay) area of Gujarat. It is made from cracked wheat, edible gum, sugar and split milk.  It has a fudge like texture and is gooey. It is a healthy sweet dish.
Traditionally , Halwasan was made by soaking wheat, sun drying it and then grounding it coarsely.
But now a days we get the cracked wheat or dalia and  it gives the same result.
Many people also use semolina instead of dalia or the combination of cracked wheat and semolina.
The process involves:
souring of milk
Caramelising the sugar
Roasting the wheat with the Soured milk and drying the mixture.
Here is the step by step method of the traditional and nutritious halwasan.
Print
Halwasan (A sweet made from cracked or broken wheat )
A traditional and nutritional sweet dish from Khambhat in Gujarat, India
Instructions
souring the milk (splitting the milk): Boil the milk. Reduce the flame and add lemon juice or curd stirring continuously till the milk curdles and separates.

Caramelising sugar: Take sugar in a pan. Heat the pan and melt the sugar on medium heat. Remove from the heat when it becomes little brown.

Roasting the wheat rava: In another pan heat the ghee and add the wheat rava to it and roast it till golden. Add the powdered edible gum to it and roast it . Add the cardamon and nutmeg powder to it.

Add the splitted milk mixture and caramelised sugar to it.

Cook on medium heat till the water is dried. Stir in between.

When all the water is dried, the mixture will come together as shown.

Remove the prepared mava in a plate. Grease your palms and take a small ball and flat it in a circle. Garnish with chia seeds. Halwasan is ready to serve.
Nutrition
Calories:
633
kcal
|
Carbohydrates:
103
g
|
Protein:
11
g
|
Fat:
23
g
|
Saturated Fat:
10
g
|
Polyunsaturated Fat:
6
g
|
Monounsaturated Fat:
1
g
|
Cholesterol:
15
mg
|
Sodium:
16
mg
|
Potassium:
262
mg
|
Fiber:
16
g
|
Sugar:
58
g
|
Vitamin A:
50
IU
|
Vitamin C:
9.1
mg
|
Calcium:
210
mg
|
Iron:
1.6
mg