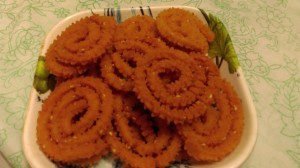 This is a popular tea time snack. The 'Chaklis'  are crisp and golden. They are my son's favorite. He likes to take them in the school lunch box. Hence a good option for lunch box snacks.
Chaklis are traditionally made in maharastrian and gujarati  family.  These are prepared during Diwali festival. They can be prepared 3-4 days before Diwali and can be stored for more than fifteen days. There are different types of chaklis and can be prepared using different kinds of flours and methods. They can be prepared from wheat flour, gram flour, mix flour of all roasted pulses (it is also known as bhajani chakli), from  rice flakes ( poha). They can be made in butter, oil, malai (home made fresh cream).
Today i have made rice flour chakli. They are made with our home made malai(cream layer on the top of boiled and cooled milk). These are also called instant chaklis. I have  made them with all the ingredients easily  available at the home. Now I am ready to share them with you all. I have mentioned in notes about the points to be kept in mind while preparing chakli.
Print
Instant Rice Flour Chakri
A crispy dry snack made from rice flour.
Instructions
Take a big bowl. Add turmeric, roasted jeera powder, sesame seeds, asafoetida, chilli powder, salt as per taste. Mix all the dry mix well with a spoon.

Add malai (fresh cream ) to it. The malai is the homemade malai one which we take out from milk after boiling it and keeping it for sometime.

Mix well.

Add knead into a smooth dough with light hands by gradually adding water to it.

The dough should be soft, smooth and moist.

Now make two balls from it. Roll into a log shape and then put it into the chakli pressing machine. Grease nicely the chakli machine and put the star shape blade into it. I have the normal original machine. U can use other types u have.

Start heating sufficient oil in a kadai. Next take a nice plastic/melamine plate and press the chakli into spiral shapes. Take the chakli press machine and start making chakli from centre and press into spiral shape in 3-4 rounds and then cut them and join the last round as shown in picture. These will come out properly with practice.

Start frying the chaklis. The oil should be nicely heated. Now put one by one chakli into the kadai with the help of a flat spatula from the plate. Handle chakli with care while putting in the oil .Put chakli into the oil on high flame and then fry them on medium heat till golden and crisp.

Remove the chaklis and drain on the absorbent paper. let it cool and serve. These chaklis can be stored for 15 days. They will become crisp once they are nicely cooled. So wait till they get cool and then munch on them.
Notes
I have  made less spicy chakli as at my place we do not eat spicy food and also my son eats them. You can make them spicy by adding ginger and green chillie paste and red chilli powder as needed. Also sprinkle chat masala on the top for more chatpata taste.
For a different taste you can add 1 tbsp each of cummin (jeera) seeds and carrom seeds (ajwain)
These are some points to be kept in mind while making chaklis:
The chakli dough should be soft and moist . If it is dry the chakli will break while pressing them from the machine. It should not have extra fat (malai) in it. This will also make difficult for making chakli and it will break.
So if the dough becomes dry then add 1-2 tbsp of water in it and knead it again and then make chaklis
If you find malai is more then  add 2-3 tbsp of flour to it and knead it again and make them. If there is  more fat in there in the dough, the chakli will absorb more oil while frying and will become more oily.
The oil for frying should be nice and hot. To check the temperature of the oil, check by putting a small ball of dough into the oil. If the ball comes up immediately then oil is ready but if stays at the bottom of the kadai then the oil is still not hot. Always put the chakli gently into the hot oil. Put three to four chakli a a time. Do not over crowd the kadai. Or else they will break by hitting with each other. Once the chakli are in to fry, immediately lessen  the heat and then let it fry on  low flame till golden and crisp.
With the above measurements, i have never failed making them. They are always perfect and are enjoyed by every one at our home. Do try them and you will get these perfect chaklis.
Just keep the above points in mind. They can be made for any festivals and mostly seen in every other indian household during diwali.
It is not neccessary to give them a spiral shape. They can be pressed down in a straight line and can be named as sticks. Kids will love this new version.
These chakli are gluten free. (avoid asafoetida for gluten free version. as it contains some wheat ).
Nutrition
Calories:
50
kcal
|
Carbohydrates:
7
g
|
Protein:
1
g
|
Fat:
2
g
|
Saturated Fat:
1
g
|
Polyunsaturated Fat:
1
g
|
Monounsaturated Fat:
1
g
|
Trans Fat:
0.01
g
|
Cholesterol:
2
mg
|
Sodium:
11
mg
|
Potassium:
20
mg
|
Fiber:
0.3
g
|
Sugar:
0.1
g
|
Vitamin A:
25
IU
|
Vitamin C:
0.2
mg
|
Calcium:
10
mg
|
Iron:
0.2
mg