Today, I am sharing with you the step-by step procedure for making Kaju Badam Puri.
It is basically a flourless and butterless cookie and is gluten free. It consists of nuts, sugar, milk and flavored with saffron and cardamom. If you want to make it vegan, the milk can be substituted with soy or almond milk. It can be made with only almonds or cashew-nuts or pistachios. The nuts can be combined, for example, cashew nut with almonds; or almonds and pistachios; or cashew nut and pistachio; or cashew nut, almonds, and pistachio together.
The ratio for making this puri or cookie is  1 cup nut mixture: 1/2 cup powdered sugar.
I have ground saffron along with nuts and sugar, you can also dissolve the saffron in milk and use it.
While kneading the dough add milk gradually as very little milk is required to knead the dough.
You can roll the dough into a big circle and then use a different cutter to cut and shape the puri.
You can also make small balls from the dough and roll into small circles.
Many people use bangle. The mixture is filled in the space in the bangle and the bangle them removed.
Try the method that suits you.
I have shown you the method of making puri in the oven. But if you do not have an oven, you can roast them in a nonstick pan on low heat. To do this place a baking sheet on the heated pan and put the puris on it. Roast them for about 7 minutes on one side on low heat. Flip them gently with a thin spatula and roast them again for 5 minutes on low heat.  Remove and cool them. The results will be the same.
If you have the nuts blanched and ready, the process takes less time. Just grind them and make puris.
I have shown you the method of blanching almonds. Nowadays, you get blanched almonds in store. Also, you get powdered almonds or cashewnuts. You can use them. The process becomes simpler then.
These are healthy treats for children who are fussy for eating nuts. You can involve them in the cooking process. Tell them to cut the puris into the shape they like. They will love and enjoy making them.
Make this puri for any festival or just make them as treat!!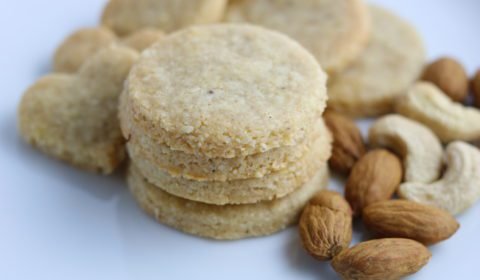 Print
Kaju Badam Puri
Kaju Badam Puri is a flourless sweet/cookie made with almonds and cashewnuts alongwith sugar and milk. It is very healthy, easy and quick to prepare. It is gluten free.
Ingredients
Instructions
In a pot boil water and add almonds to it.

Boil them for 3-4 minutes. They will come up.

Drain the water.

Peel the skin from the almonds and dry them on a clean kitchen towel. (the pistachio shown are not for this recipe)

In a plate gather all the ingredients blanched almonds, cashewnut, milk, saffron and cardamom powder.

In a mixture jar put the chop almonds alongwith saffron and grind them together.(While grinding the nuts, just pulse the grinder few times till you get a fine mixture. if you grind them constantly, the nuts will release oil and the mixture will become sticky like dough)

Similarly, grind the chop and grind cashewnuts to a fine powder. (You can sieve the mixture).

Now measure the grounded mixture. It will be around 2 cups or a little more.

Take half the quantity of sugar to the nuts mixture. i.e one cup sugar for 2 cups nut mixture. (whatever quantity you take for nut mixture take half the quantity of sugar for it)

In a mixing plate take nuts mixture, sugar , cardamom powder and milk . (you can dissolve saffron in milk and use it ) I have ground saffron alongwith the nuts.

Now mix them all well and make dough. Add little by little milk to it and knead to dough. (if required add more milk). Apply a little ghee and smoothen the dough.

Divide the dough into two parts.

Place one portion on the butter paper.

Put other butter paper over it and roll it to 5 mm thickness with a rolling pin.

With the help of cutter, cut into different shapes as per your choice.

Place the cut puris on the baking tray lined with butter paper.

Bake in the oven at 170 C for 8-10 minutes.

Remove from oven, cool and serve. The puris can be stored for 15-20 days outside and enjoyed.
Nutrition
Calories:
75
kcal
|
Carbohydrates:
8
g
|
Protein:
2
g
|
Fat:
4
g
|
Saturated Fat:
1
g
|
Polyunsaturated Fat:
1
g
|
Monounsaturated Fat:
3
g
|
Cholesterol:
0.1
mg
|
Sodium:
0.5
mg
|
Potassium:
66
mg
|
Fiber:
1
g
|
Sugar:
6
g
|
Vitamin A:
0.1
IU
|
Vitamin C:
0.2
mg
|
Calcium:
20
mg
|
Iron:
0.5
mg