Kiwi is the national fruit of New Zealand. It was first found in China. It was known as Yang tao then. Missionaries brought the kiwi fruit to New Zealand only in the early 20th century. It gained such popularity in the country that it started being cultivated commercially and was marketed as 'kiwi' (bearing a close resemblance to their national bird).
Research shows that this exotic fruit has highest Vitamin C content. It has five times more vitamin C than lemon and oranges. Besides this, the fruit is rich in dietary fiber, aids digestion, is rich in folate and is a powerhouse of minerals and vitamins.
Try to use Kiwi more in your diets. You can use it in salads, decorating cakes and puddings, smoothies or juices.
It is refreshing and healthy to have fresh fruit juices. Decorate the serving glasses and not only the kids but also the elders would be tempted to drink the healthy juices.
Kiwifruit is little tangy and so the juice is balanced with sugar and rock salt.
My mother in law (Geeta Shah) had made this refreshing juice and we enjoyed it on a hot summer afternoon.
Use soft and ripe kiwi for the juice. The juice will have the seeds. If you do not want them then you can strain the juice before serving.
For parties, you can make this juice in advance and refrigerate in a glass jar. Serve chill in the decorated glasses. You can also serve the juice in the tall glasses adding lemonade to it. It will be sweet and tangy fizzy drink.
So friends, make this juice and serve to your dear ones. Cheers !!
I would love to hear your comments soon.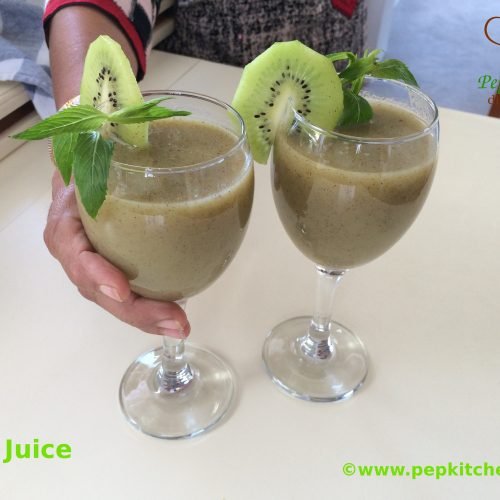 Print
Kiwi Juice
A very refreshing juice packed with high Vitamin C and is a powerhouse of Vitamins and minerals. It is a very quick and easy to make.
Instructions
Peel and chop the kiwi into small pieces.

Put it into juicer or mixer. Add water and blend.

Add sugar and blend the juice to smooth.

Remove in a bowl. Add rock salt and cumin seed powder. (if you do not want seeds, strain the juice).

Garnish the serving glass with kiwi slices and mint leaves. Pour the juice into the glasses and serve. Cheers!!
Nutrition
Calories:
58
kcal
|
Carbohydrates:
14
g
|
Sodium:
585
mg
|
Potassium:
212
mg
|
Fiber:
2
g
|
Sugar:
10
g
|
Vitamin A:
60
IU
|
Vitamin C:
63.3
mg
|
Calcium:
23
mg
|
Iron:
0.4
mg