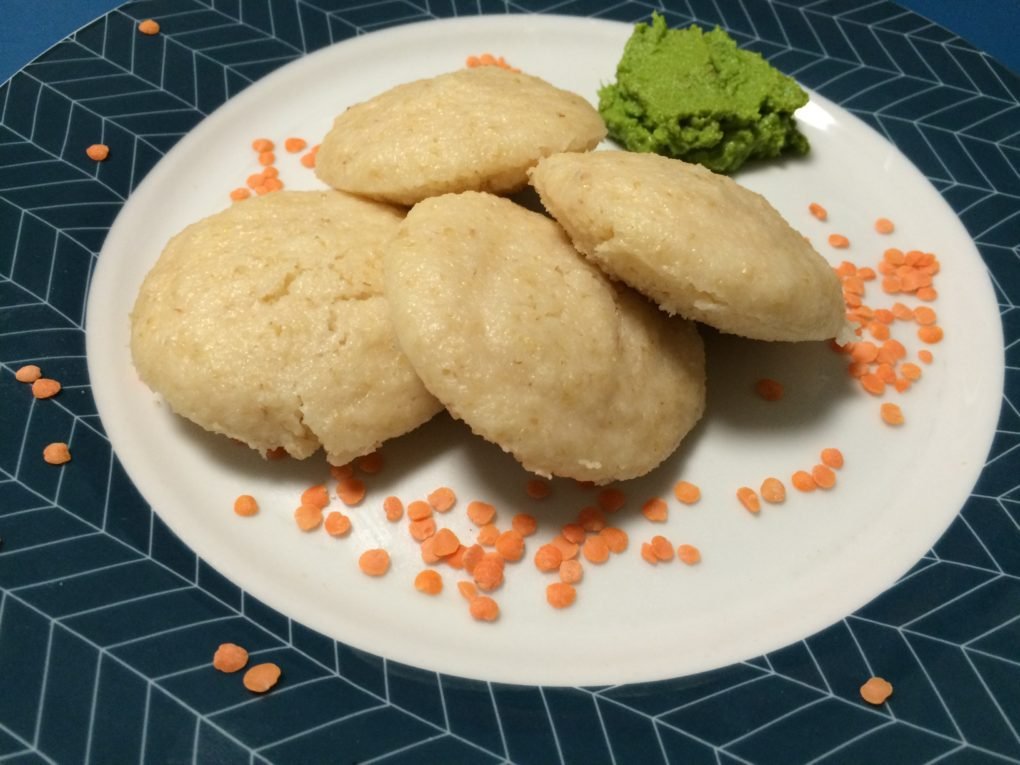 Idli is a popular breakfast dish from South India. It is one of the healthiest breakfast. Generally, Idli is made from soaked, ground and fermented rice and urad dal mixture. The batter is to be fermented for 6-8 hours. My son is fond of them. He likes to take them in his lunch box. I usually give him once every week. Sometimes when you are short of time, preparing idli batter can be time-consuming. At such times you need to think something which can be done instantly. I generally prepare the instant rava (semolina) idlis. They are soft and have the same white colour and the batter does not have to be fermented. You can either add baking soda or fruit salt to the batter and prepare soft and fluffy idlis. I will post the recipe of instant rava idli soon.
I then got the idea of making the Idli with masoor dal and cracked wheat (dalia). I have mentioned in my recipe of Whole Masoor Dal the goodness of masoor or red lentil. Whole cracked wheat or dalia are very rich in fibre. It is broken wheat and not a flour and hence it retains the nutrition of whole wheat in it.It is good source of manganese also. It is an excellent source for people who want to lose weight. It helps in keeping the  digestive tract healthy. You should have this valuable dalia at least once a week in your diet. It is a very good option for people who want to avoid rice.
The idlis taste good even the next day. I generally cut them into small pieces and temper them with oil, mustard seeds, cumin seeds, urad dal, sesame seeds, green chillis, curry leaves and chaat masala and serve them for breakfast. They taste yummy. You can give them to your kids in their lunch box too.
Print
Masoor Dalia Idli (Red lentil and whole cracked wheat steam cake)
A healthy dish made from masoor dal ( red lentils) and dalia (cracked whole wheat). It is rich in protiens and fibre. It is the best option for those who want to avoid rice. It can be relished by all age groups.
Instructions
Soak the masoor dal and urad dal for 2-3 hours together. Soak the cracked whole wheat in warm water for 20 minutes.

Drain the soaked dal and grind them. Keep it little coarse.

Add the soaked cracked whole wheat and semolina to it.

Add the curd and salt. Mix and add water if required. The batter should be of dropping consistency . Be careful while adding water. Add gradually.

Mix well and keep it aside for 15 minutes. In the meantime heat water in the steamer.

Take a little batter in a small bowl.( Around of 8 idlis ). Now add 1/4 tsp of eno or fruit salt to it. Mix it well. The batter will start bubbling.

Immediately pour it in the greased idli moulds and steam them in the steamer for about 12-15 minutes.

Remove from the steamer and let it cool. Unmould them . Similary follow the procedure for making remaining idlis.

Serve them hot with green coriander and coconut chutney.

This image shows fluffy, soft and spongy idlis.
Notes
Notes:
The curd should not be too sour.
Do not add all the fruit salt at once. Just remove the batter in the other bowl for making around 8 idlis and add 1/4 tsp of eno per bowl.
The water needed should be added gradually till you get the dropping consistency of the idli batter.
If the batter has become too thin then add more semolina to it or gram flour.
Nutrition
Calories:
506
kcal
|
Carbohydrates:
72
g
|
Protein:
21
g
|
Fat:
8
g
|
Saturated Fat:
2
g
|
Polyunsaturated Fat:
2
g
|
Monounsaturated Fat:
2
g
|
Cholesterol:
8
mg
|
Sodium:
410
mg
|
Potassium:
318
mg
|
Fiber:
11
g
|
Sugar:
2
g
|
Vitamin A:
200
IU
|
Vitamin C:
13.2
mg
|
Calcium:
100
mg
|
Iron:
3.1
mg