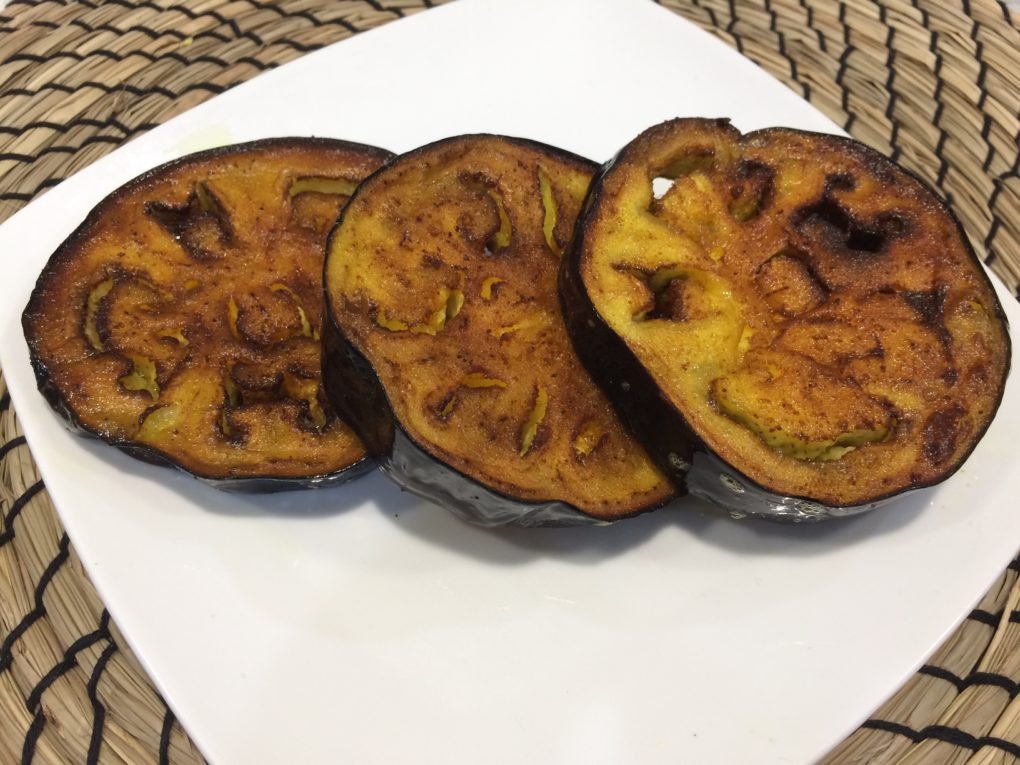 Baigan Bhaja is one of my favorite dishes. It is very easy and quick to make. It is made with minimal ingredients but is still full of flavors. It is a popular dish made regularly in any Bengali's house. There are many variations to it but this post covers the very basic recipe.
The eggplant should be big and should have fewer seeds and more flesh. One of my friends showed me how to choose a good eggplant. She told that the eggplant, when taken in hands, should feel light in weight. It means that it has fewer seeds and more flesh.
We had been to Canberra at my husband's friend house last month. His wife is a Bengali. They had just shifted to their own new house and we were very excited to be at their new house. They are a very lovely couple and we enjoyed our stay at their place. We enjoyed the variety of dishes his wife had prepared and served us. She knew that I love Baigan Bhaja and I was very impressed and happy that  she specially made it for me.
What can be more exciting than to learn the authentic way of making Baigan Bhaja from a Bengali friend! I thought of sharing with you this recipe. I took the step wise pictures of the recipe when it was made.
Thanks a lot to Sameer and Shreya for inviting us and we had a lovely time with them. I am looking forward to learn more Bengali dishes from Shreya.
Print
Baigan Bhaja
A simple authentic dish made in Bengal where eggplant is sliced, marinated with spices, grilled on a pan and served with rice, roti or Khichuri.
Instructions
Wash the brinjal and cut them into circle of 1 cm thickness.

In a mixing bowl, put the brinjal and season them with turmeric powder, red chilli powder, cumin powder and salt.

Put the mustard oil (sarson ka tel) and mix them well.

Rub the slices with each other as shown so that they are evenly seasoned.

Let them marinate for 30 minutes.

Heat sufficient mustard oil in a pan.

Put the marinated brinjal slices in batches. Reduce the heat to medium.

Shallow fry them for 7-8 minutes on both the sides. Flip them in between and cook them till golden brown.

Remove them on an absorbent paper.

Serve them hot.
Notes
The brinjal used should be fresh, have less seeds and more flesh.
Mustard oil gives an authentic taste to the dish. However, if not available any oil of your choice can be used.
Nutrition
Calories:
224
kcal
|
Carbohydrates:
9
g
|
Protein:
2
g
|
Fat:
22
g
|
Saturated Fat:
3
g
|
Polyunsaturated Fat:
5
g
|
Monounsaturated Fat:
13
g
|
Sodium:
5
mg
|
Potassium:
344
mg
|
Fiber:
5
g
|
Sugar:
3
g
|
Vitamin A:
50
IU
|
Vitamin C:
4.1
mg
|
Calcium:
20
mg
|
Iron:
1.3
mg