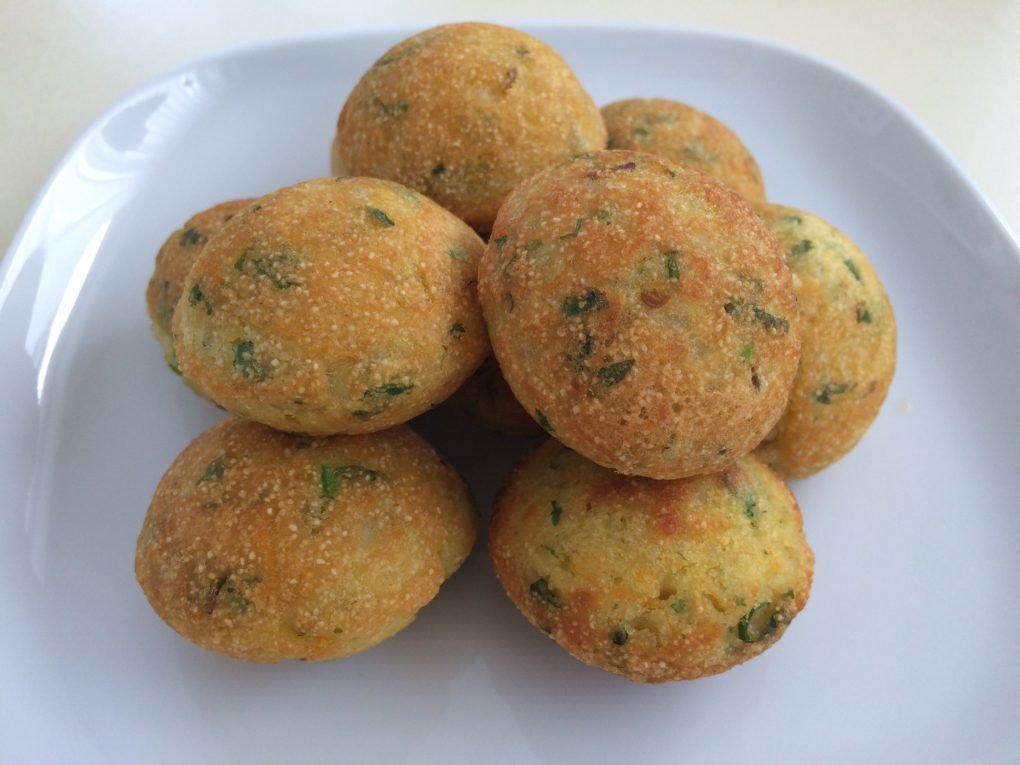 Paniyaram is a South Indian breakfast or snack recipe. It is known as Kuzhi Paniyaram in Tamil, Paddu in Kannada, Gunta Ponganalu in Telugu. I had it first at a restaurant serving authentic South Indian Food in Baroda, Gujarat. I had masala Paniyaram at that time and fell in love with it. They were crispy from outside and soft from inside and were balanced with the spices. After that, whenever I go to such restaurants serving South Indian food, I tryPaniyaram. I was keen on making it at home. I searched for some recipes and found out that it requires a special pan known as appam pan or Paniyaram pan or paniyarkal in many shops. The pan consists of several small, deep, hemispherical indentations.  We have to grease the small indentation and fill the batter in it. Cover and cook for sometimes till golden on both the sides.
This pan is a boon for the people who want to consume very less oil. Due to its shape, the heat can be distributed evenly to the individual hemisphere and the cooking becomes easy. Besides Paniyaram, we can make batata wada, medu vada, sabudana vada, sweet puffed pancakes, mix dal vada, corn fritters and many such dishes. The process of frying can be skipped. Hence this way we can consume less oil.
So during my trip to India this time I finally purchased the Paniyaram pan. After I came back, I simply could not resist making them.
Traditionally Paniyarams are made from the leftover idli or dosa batter. It is a fermented batter.  It is a combination of rice and black lentils (urad dal). They can be made spicy or sweet.
I did not have idli batter and made it with semolina. I have used semolina, rice flour and yogurt along with onions, carrot, coriander, curry leaves and flavored with ginger, green chili, and cumin seeds. I added some cooking soda to it. This made the Paniyarams fluffy and soft. The Paniyaram came out very well and hence I thought of sharing with you all this quick recipe.
They taste equally good when hot, warm and even cold. I had  4-5 Paniyaram left after morning breakfast and had them cold with my evening tea. Thus they are a good option for kids lunch box.
I am in love with this pan and would recommend that every household have it in their kitchen. I will try out different types of Paniyaram and will share with you all the recipes for the same.
Print
Sooji Paniyaram
Sooji Paniyaram is a very tasty breakfast or snack where the batter is cooked in a special pan known as "paniyaram pan". The batter is made from semolina, rice flour, carrot , coriander , curry leaves and is flavored with ginger, green chili , salt and cumin seeds. It is then cooked in the pan and comes out as a puffed sphere which is crisp outside and soft from inside.
Instructions
In a bowl add semolina and rice flour. Mix well.

Add grated carrots, onions, chopped coriander, grated ginger, green chili, curry leaves and curd.

Mix well and add cooking soda, soda and cumin seeds.

Mix well and keep aside for 5-10 minutes.

Heat and grease the paniyaram pan.

Put a tbsp of batter in each part of the pan.

Cover the pan and let it cook for 7 minutes.

Gently flip them. Cover and cook on other side for 3 minutes.

After three minutes the paniyaram are done.

Remove the paniyaram. Serve hot with chutney of your choice and tea or coffee.
Nutrition
Calories:
54
kcal
|
Carbohydrates:
9
g
|
Protein:
1
g
|
Fat:
2
g
|
Saturated Fat:
0.2
g
|
Polyunsaturated Fat:
1
g
|
Monounsaturated Fat:
1
g
|
Cholesterol:
0.3
mg
|
Sodium:
5
mg
|
Potassium:
48
mg
|
Fiber:
1
g
|
Sugar:
1
g
|
Vitamin A:
250
IU
|
Vitamin C:
0.8
mg
|
Calcium:
20
mg
|
Iron:
0.5
mg