Sambharo – an integral part of a Gujarati meal. It is a warm salad served as an accompaniment to a Gujarati meal. It is often served along with farsan such as fafda, bhajia, dhokla, khaman or wada.  The sambharo is crunchy and is very quick and easy to make. The vegetables are stir fried and lightly cooked and retain the fresh bright color.  Sambharo can be made with different vegetables such as cabbage, raw papaya, purple cabbage, carrots, capsicum, ivy gourd (tindora), raw mango, radish. The vegetables can be cooked individually or in combination with one another. The vegetables can be chopped lengthwise or grated.
The vegetables are lightly tossed and cooked with spices and lemon and sugar. It is balanced with sour and sweet taste. However, lemon and sugar are optional.
My father is from Kathiyawad and so we have enjoyed the kathiyawadi food from childhood. Sambharo used to be a side dish to our meal. My mother would make different kinds of Sambharo. When she used to stir-fry the vegetables, a very nice aroma would come out and awaken our appetite. It also signalled us that the meal is ready and we should get together for lunch or dinner. My mother always cooked sambharo just before serving the lunch or dinner. I have learned to cook the capsicum carrot sambharo from her. She usually uses  Wadhwani Chili (this chili is from Wadhwa region in Surendranagar in Kathiyawad Gujarat.It is mildly spicy and has a very nice smell and taste). She uses capsicum if Wadhwani chili is not available. When stir-frying the carrot and capsicum, she sprinkles some water; this helps to cook the carrots quickly while retaining its color. Also, she likes to add sugar and saute the sambharo. This helps to melt the sugar and caramelize the sambharo lightly which further enhances its taste and color. The sugar sweetness is balanced with lemon juice.
I follow her recipe and it is loved by everyone in my house.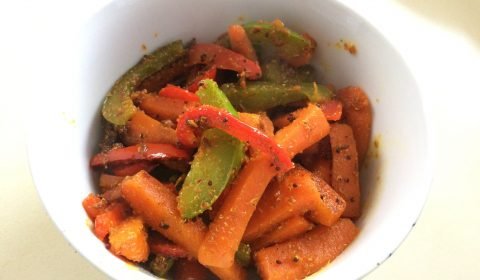 Print
Capsicum carrot sambharo/Capsicum Carrot Stir Fry/Gajar Marcha Sambharo
A quick side dish or a warm salad served as an accompaniment to Gujarati meal. Carrot and capsicum are stir-fried and lightly cooked along with spices.
Instructions
Heat oil in a pan. Add mustard seeds and cumin seeds. When they crackle add asafoetida and turmeric powder.

Add the chopped carrots. Add salt and mix well. Sprinkle a tablespoon on water and mix and cover with lid and cook for 2-3 minutes.

Now add the chopped red and green capsicum. Mix well and cover and cook for 2-3 minutes. Open the lid and add corainder cumin seed powder and sugar.

Mix well and add red chili powder. Cook for a minute and add lemon juice. Mix well .

The Capsicum carrot sambharo is ready to serve.
Nutrition
Calories:
201
kcal
|
Carbohydrates:
31
g
|
Protein:
4
g
|
Fat:
10
g
|
Saturated Fat:
1
g
|
Polyunsaturated Fat:
4
g
|
Monounsaturated Fat:
5
g
|
Sodium:
124
mg
|
Potassium:
809
mg
|
Fiber:
12
g
|
Sugar:
13
g
|
Vitamin A:
22000
IU
|
Vitamin C:
206.3
mg
|
Calcium:
160
mg
|
Iron:
5.6
mg