Making a naan at home was always on my wish list, but somehow I did not get the chance to make it. The school term breaks have started in Sydney. My son -Aarav is at home now. He has developed an interest in cooking. Every day he wants to try out new dishes. So this time he wanted me to make naan. He wanted to help me in making it. So here we go..
I try to avoid using refined flour wherever possible. Mostly I try out dishes with whole wheat flour instead of refined flour. Usually, in the restaurants, we find naan made from refined flour. They are very tasty but less healthy. I always think if we are making at home then why not use the ingredients which are good for our body.
I have used whole wheat flour for the recipe. I have tried to make them both in oven and cooktop. The results were good in both. The naan came out super soft and since they were made from whole wheat flour, they remained soft even if they were eaten cold.  This recipe shows plain naan, garlic naan, and garlic chutney naan. This naan is very easy to make. I have not used any tandoor in making it. When you invite guests for dinner, just keep other dishes ready and delight them by making the homemade fresh naan.
I have served this naan with dal fry and some chopped onions. It goes well with any thick curry or dal or chole or even plain curd.
Aarav helped me a lot and he had fun in measuring all the ingredients and mixing and kneading the dough. Do try making with your kids and let them experience the joy of cooking.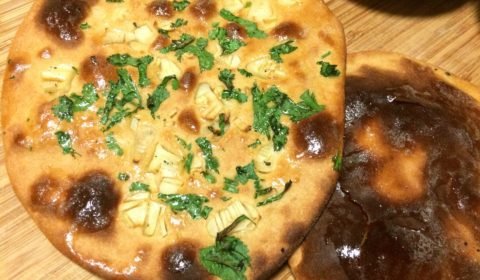 Print
Wholewheat Garlic Naan
A leavened flatbread made without tandoor at home in the oven or on the cooktop with the goodness of whole wheat and garlic.
Instructions
In a mixing bowl, add whole wheat flour.

Keep ready oil, curd, sugar, salt and baking soda in a plate.

Add sugar, salt and baking soda to the flour. Mix well.

Add one tbsp oil and curd and mix well.

Now with the help of lukewarm milk start kneading the dough. (My son helped me kneading the dough with his little fingers.)

The dough will look sticky. Knead it nicely for 5-7 minutes.

Now smoothen the dough with rest of the oil. When pressed with the finger, the dough should come up back.

Now covered the dough with a cling wrap or cloth and keep it in a warm place for 3 hours. I like to keep the dough in a microwave.

After 3 hours the dough will be doubled in size. Smoothen it again. Make 6-7 equal size balls out of it.

Now flatten one ball.

Roll it inside from the edges as shown and make a ball from it.

Press it lightly and bang it on the dish.

Similarly, make other balls from the dough and bang them in a plate.

Now dust the surface with flour and flatten the ball with hands and then with the help of a rolling pin, roll it into the circle or oval shape.

After that take the rolled naan in your hands and pull it down from one side to give the shape as shown. This is plain naan.

For garlic naan- spread the chopped garlic and coriander over the naan and with the help of rolling pin press them lightly so that they stick to the naan.

Put the rolled naan in a baking plate lined with baking paper or greased with butter or oil.

Bake them for 5-7 minutes in the preheated oven at 250 C. The bubbles will be formed over them.

Flip it over.

Bake it again for 2-3 minutes or until brown spots appear. Just keep an eye over it. My plain naan got more brown. After removing from the oven apply butter over it.

For cooktop method. Roll the naan in the circle or oval shape. Apply good amount of water over the top surface.

Make sure the flat pan for roasting naan is heated up. Take the naan and place the water applied side on the flat pan. Lower the heat and cook the naan for 2 minutes . The bubbles will start to form.

After 2-3 minutes, flip the pan upside down with the naan over the flame or heat. (mine is the ceramic cooktop and I have switched over to the maximum heat) try to cook on all sides moving the pan.

The naan will be cooked when the brown spots appear. Remove from heat and remove it in a plate and apply butter over it.

Serve it hot with thick gravy or dal or your choice. Or just sprinkle some chat masala over it and have it with raita or curd and pickle.

I had some dry garlic chutney and so I have spread on the naan with coriander and tried making a different version. You can try making it with chopped onions, sesame seeds, mint leaves, kalonji or any topping of your choice.
Notes
Note:
I have used 100% whole wheat flour. You can use entire refined flour or 50:50 ratio of whole wheat flour to refined flour.
Kneading the dough is very important. Knead it more to get soft naan.  You can use a tbsp of more milk if you require while kneading the dough.
Do not shape into balls after the fermentation of dough like making a ball for normal roti. Flatten it and roll it inside from the edges as shown to make a ball for making naan. Make sure to bang the ball.
You can try making naan with different toppings and different flavors.
Nutrition
Calories:
216
kcal
|
Carbohydrates:
36
g
|
Protein:
7
g
|
Fat:
9
g
|
Saturated Fat:
1
g
|
Polyunsaturated Fat:
3
g
|
Monounsaturated Fat:
4
g
|
Cholesterol:
3
mg
|
Sodium:
280
mg
|
Potassium:
384
mg
|
Fiber:
12
g
|
Sugar:
2
g
|
Vitamin A:
50
IU
|
Vitamin C:
9.1
mg
|
Calcium:
120
mg
|
Iron:
4.7
mg