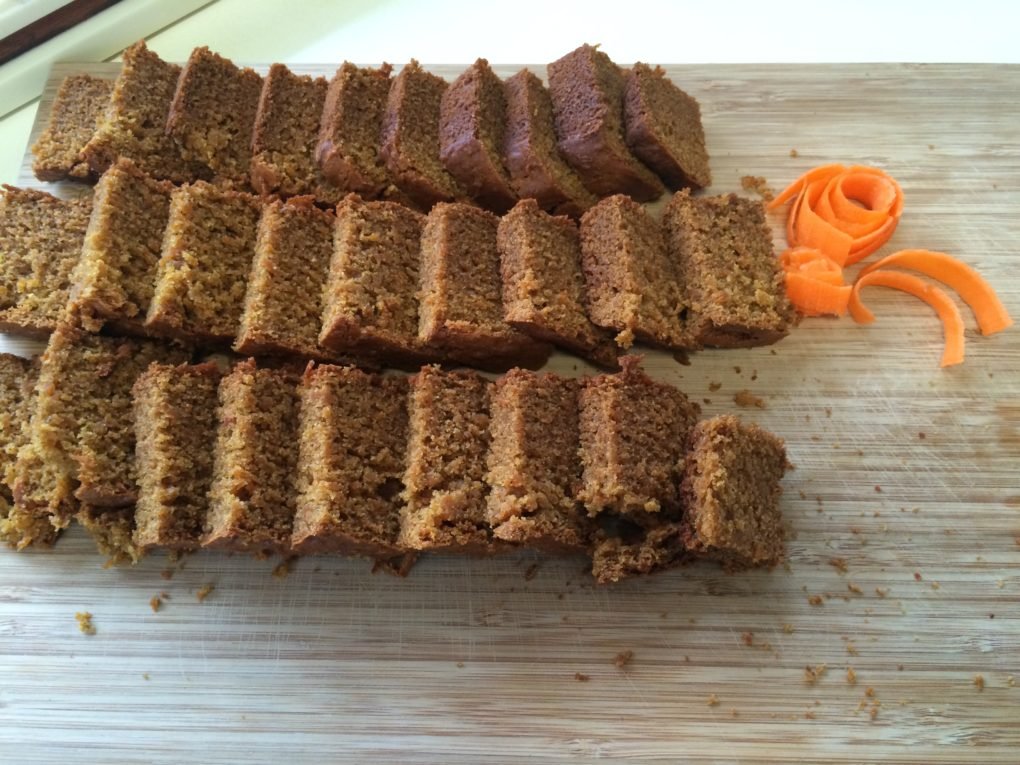 Cake…the most delicious sweet treat. They are soft and spongy. A basic cake is made from flour, sugar, eggs, butter or oil, milk and with leavening agents like baking powder and baking soda. To this basic cake mix different ingredients can be added such as fresh  fruits, nuts, chocolates, jam, candied fruits, carrots, raisins and many more. Using these, different kinds of cakes can be made. Cakes can be baked with or without eggs. Generally with the eggs, the cakes become more soft and fluffy. The same results can be achieved in eggless cakes using ingredients such as condensed milk, eggs substitute, flax seeds or banana. The cakes made with the refined flour are super soft and light. But with the increasing health awareness people now ask for cakes made from whole meal or different flours. Many recipes of cakes are  now substituted with different flours to make them more healthy.
Today I will show you an eggless carrot cake. It is made from whole wheat flour, carrots, jaggery, honey, a little condensed milk, butter, cinnamon and nutmeg powder. The house will be filled with the rich aroma when the cake is baking. This cake is the best option for kids lunch boxes. It can also be relished with a cup of  evening tea or coffee. I make this cake often in my house as everyone loves it. I also pack it for my son's short lunch breaks.
It tastes best when warm. To give the cruchy effect add chopped walnuts and raisins to the batter. Always coat the nuts with the flour and then add to the batter. This will prevent them from settling down in the bottom. The cake can be served by dusting some icing sugar on it or cocoa powder. It equally tastes good when served plain.
https://www.youtube.com/watch?v=c3bqgKLoL5c
Print
Eggless Carrot Cake
A very healthy cake with goodness of carrots, jaggery, honey and some spices. It is made from whole wheat flour; is soft and is easy to make.
Instructions
Melt the butter, honey and jaggery over low heat and keep aside to cool.

Once the mixture is cooled add the condensed milk and mix it well.

Sift the flour with cinnamon, nutmeg, salt, baking soda and baking powder. I sieved the flour three to four times.

Add the flour gradually to the butter mixture. Mix them.

Add the grated carrots and mix them gently.

Now pour the batter in the greased and dusted baking dish.

Bake in the preheated oven at 180 deg celcius or around 360 Fahrenheit for about one hour. The baking time can vary from oven to oven. So keep checking the cake after 40 to 45 min. Insert the knife or a toothpick and if comes out clean the cake is done. Remove and cool it on a wire rack.

Cut it into pieces and serve.
Notes
Some points which will help the cake come out soft.
As we are using the whole wheat flour try to sieve it for three to four time. Sifting more helps to improve the aeration in cakes and the dry ingredients are also mixed uniform. This will result in a soft and spongy cake.
The carrot cake when removed from the oven will be hard. But as it cools down the cake will become soft. So let the cake cool.
Nutrition
Calories:
288
kcal
|
Carbohydrates:
45
g
|
Protein:
5
g
|
Fat:
12
g
|
Saturated Fat:
7
g
|
Polyunsaturated Fat:
1
g
|
Monounsaturated Fat:
3
g
|
Cholesterol:
30
mg
|
Sodium:
246
mg
|
Potassium:
357
mg
|
Fiber:
5
g
|
Sugar:
25
g
|
Vitamin A:
10300
IU
|
Vitamin C:
5.8
mg
|
Calcium:
80
mg
|
Iron:
1.3
mg