When winter arrives, so does colourful vegetables in the market. Cabbages are available in plenty in winters and are also good as winter food. I saw wonderful red and green cabbage in the market the other day and got an idea to make salad out of it. I wanted to try it with peanut butter. Peanut butter is a paste made from ground roasted peanuts. It is very healthy. Peanut butter is an excellent source of protien, fiber, vitamin E, panthothenic acid, niacin, vitamin B6, iron and potassium. Peanut butter is used in many dishes like cookies, cakes, breads, chocolates, savoury sauces. Many Thai cuisine recipes use peanut butter.
I thought of using it as a dressing in my salad. The nutty taste of peanut butter enhances the salad. It gives nice creamy texture to the salad. Also it combines well with all the ingredients.
For salad use the fresh vegetables. Clean and wash them. Always cut the vegetables in same size if possible. Try to use a  fruit (apple, grapes, pommegrannates , mango) in the salad. Give it a crunchy taste by using some nuts (walnuts, pine nuts, almonds, peanuts, sunflower or melon seeds). Use some greens like spinach, coriander, parsley, mint, spring onions, lettuce.  All the green ingredients should be dry otherwise the water in it will not take the dressing well and make the salad taste bland. This is  basic for any salad.
For the salad dressing there is a basic  thumb rule. I have learnt  that from  super Chef Jamie Oliver's recipe for salad dressing. It is three parts of oil (such as olive oil) to one part of acid (lemon juice, vinegar, balsamic vinegar ,rice vinegar, etc). To this you can then add salt , pepper, chilli flakes, mixed herbs. As per the type of dressing, you can then add curd, dijon mustard, peanut butter, mayonnaise and other combinations you want. Always use the dressing only when the salad is ready to serve otherwise the salt and acids in the salad will make the ingredients soggy. The dressing should be used in the appropriate amount; If its less, the salad will taste bland and if used more, the salad will become heavy. So always keep in mind this rule and you can make any salad with any combination.
I have also used apple in my salad. If you can get green apples use them as they go well with the red cabbage. I have also used raisins or sultanas since they really give a nice sweet taste. Always try to use a sweet taste such as  sugar, honey, raisins with red cabbbage as they go really well together. For the salad to be a complete meal I have used tofu. You can also  paneer, some chicken or meat pieces instead.
This is a whole meal dish which is light yet tummy filling . It is full of flavors tangy and sweet. So just make it and enjoy.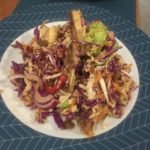 Print
Red Cabbage Salad With Peanut Butter Dressing
A quick salad which is sweet, tangy and rich with goodness of peanut butter. It is tummy filling and rich with all the seasonal veggies.
Instructions
Peanut Butter Dressing
In a bowl add olive oil, lemon juice and soy, honey and garlic sauce.

Add ginger, garlic, salt and pepper.

Mix well and then add the peanut butter.

Mix it well . The peanut butter dressing is ready. Keep it refrigerated and use when the salad mix is ready to serve.
Salad Mix
In a big bowl add all the above salad mix ingredients one by one.

Add the tofu.

When the salad is about to be served pour the dressing over it and add the mint leaves.

Toss the salad.

Serve it .
Nutrition
Calories:
187
kcal
|
Carbohydrates:
19
g
|
Protein:
4
g
|
Fat:
12
g
|
Saturated Fat:
2
g
|
Polyunsaturated Fat:
2
g
|
Monounsaturated Fat:
7
g
|
Sodium:
90
mg
|
Potassium:
541
mg
|
Fiber:
6
g
|
Sugar:
9
g
|
Vitamin A:
3700
IU
|
Vitamin C:
77.6
mg
|
Calcium:
60
mg
|
Iron:
1.3
mg