Summer is on its way in Sydney (Australia). The king of the fruits, yes right – Mango has arrived.
Mango fruit is rich in dietary fiber, vitamins, minerals, and antioxidants.
Mango is my favorite fruit since childhood. I was brought up in Vapi, which is near Valsad in South Gujarat in India. Valsad is popular for its Alphonso Mangoes. I have spent my entire childhood relishing those sweet Alphonso Mangoes. Now my father (Lavji Ramolia) who is a retired businessman, runs a mango farm in Vapi. He and my mom (Rekha Ramolia) are looking after the mango farm. We enjoy our home farm produced organic mangoes . They are starting their food processing unit soon. My best wishes are with them.
The mango fruit can be consumed raw and ripe.  Raw mangoes are firm and sour in taste. They are used for making pickles, salads, jams, chutneys, juice (aam pana). These raw mangoes can be sun-dried and are powdered to get the dry mango powder which can be used for making various dishes. We used to cut the raw mangoes in length, sprinkle salt on them and eat them. This use to be our treat on our way to school.Raw mangoes are kept covered with dry grass to get ripe in a warm place. The skin of the mango turns  yellow when ripe and they smell sweet too. The ripe mangoes can be consumed by slicing them. We can also make juice (aam ras ) from it and that can be had with puri or chapati. Many dishes such as cake, salad, sauce, mango bar, burfi, lassi, mango flavored yogurt, ice cream can be made with the pulp of the ripe mango.
I always wait for the summer season to come to relish the mango. The smell of ripe mango is irresistible. Summers are hot and so to beat the hot temperature, we need something refreshing and cool.  I have made this Mango salad  using three main ingredients –  ripe mango, cucumber, and capsicum. All the three ingredients help to keep our body cool naturally. The salad is balanced with fresh herbs such as mint leaves, coriander and seasoned with oregano , chili flakes, salt, and pepper. The flavors infused make them exotic and refreshing.
Chill the salad before serving. This salad can be a good option for a potluck summer menu. It is very quick and easy to make. It can be served as a side dish along with a heavy meal. The combination of colors – yellow, light and dark green in the salad makes it attractive.
Just enjoy this salad alone or accompanied with a  meal.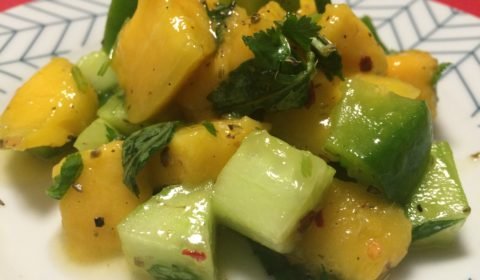 Print
Mango Salad
A quick refreshing salad with the goodness of ripe mango, cucumber, and capsicum. Perfect to beat the summer heat!
Instructions
Chop in cubes mango, cucumber, capsicum. Chop mint and coriander finely.

In a mixing bowl, add chopped mango, cucumber, capsicum, coriander, mint leaves, oregano, red chili flakes, black pepper powder, salt and olive oil.

Toss them well.

Cool for half hour and serve chilled.
Nutrition
Calories:
234
kcal
|
Carbohydrates:
33
g
|
Protein:
4
g
|
Fat:
10
g
|
Saturated Fat:
1
g
|
Polyunsaturated Fat:
1
g
|
Monounsaturated Fat:
7
g
|
Sodium:
13
mg
|
Potassium:
626
mg
|
Fiber:
12
g
|
Sugar:
18
g
|
Vitamin A:
1250
IU
|
Vitamin C:
83.3
mg
|
Calcium:
200
mg
|
Iron:
5.6
mg