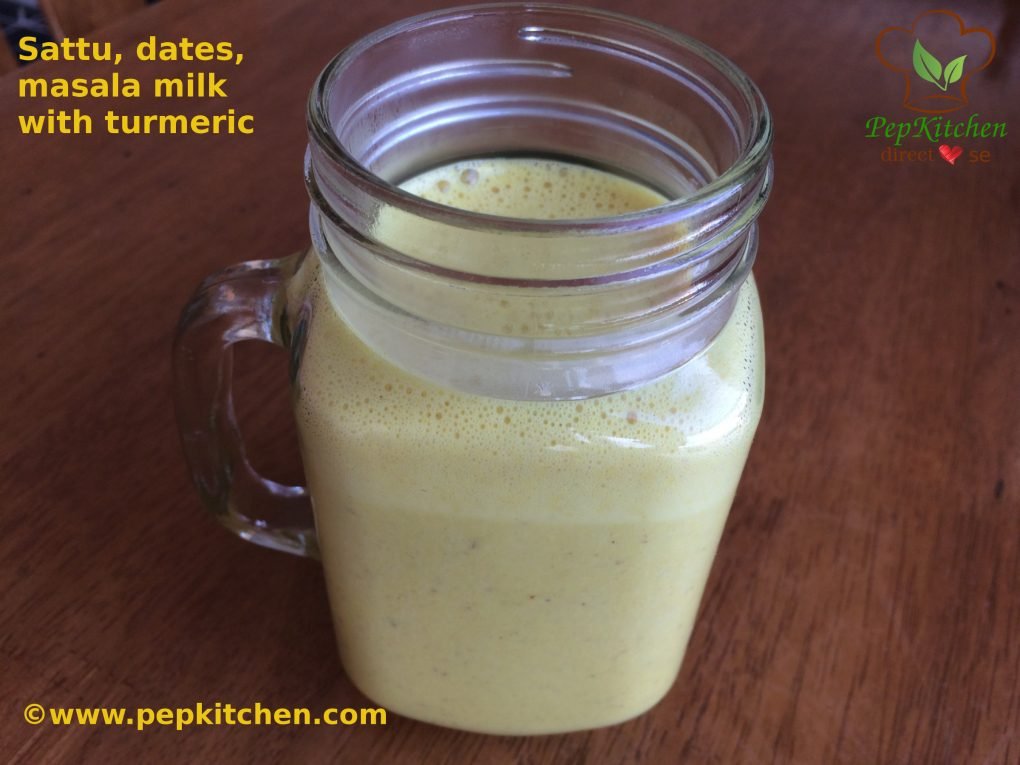 Sattu, dates masala milk with turmeric has become my son's favorite this winter. He likes to have it as an afterschool drink before his music or sports class. I make and pack it hot when I go to school to pick him up. He has some time for a quick snack before the lesson begins. He likes drinking it warm in cold weather after school. I am happy as this energy drink has sattu, dates, powdered nuts and turmeric. This gives him energy before his sports or music. Sattu is considered very healthy and is a good source of protein, calcium, magnesium, iron, and fiber. Dates are a good source of various vitamins and minerals. It's also a good source of energy, sugar, and fiber. Essential minerals such as calcium, iron, phosphorous, sodium, potassium, magnesium, and zinc can be found in them. It is naturally sweet and hence adding sugar to the milk is not required. Turmeric, the golden spice, is good to be consumed in cold weathers. It helps in building immunity and in fighting against cough and cold. This drink is also preservative free and does not have any artificial sugar in it, unlike the commercially available drinks. The milk takes only a few minutes to make. I usually ground the sattu and nuts powder and refrigerate the mixture. I then just have to boil it in the milk and thus the masala milk can be prepared quickly. The sugarfree drink is diabetic friendly. Sattu is low in glycemic index and hence is beneficial for a person having diabetes. Since it is good for the development of muscle mass in the body, it is very good for growing children.
For learning more benefits of Sattu check my recipe below
Sattu ke parathe and cucumber tomato raita
I have shared the recipe of masala milk earlier. Masala milk is made regularly in my house.
Print
Sattu,dates masala milk with turmeric
Sattu, Dates Masala Milk With Turmeric is a healthy energy drink made with Sattu (ground roasted gram), dates and powdered dry nuts and is flavored with saffron and cardamom powder. Adding the golden spice "turmeric" enhances the health benefit of the drink. The masala milk is good to have it warm in cold or as a chill milkshake on hot days.
Instructions
Sattu and nut powder
In a mixer grinder, grind roasted gram (sattu), almonds, walnuts and pistachio to powder. Remove and store in an airtight container in a refrigerator and use as required.
For milk
In a pan put milk to boil.

As the milk begins to boil add the dates.

Mix and let the milk boil for 2-3 minutes. The dates will become mushy.

Now add the prepared sattu and nut powder. Mix well and cook for a minute.

Add cardamom powder and saffron strands. Mix well and boil and stir milk for further 4 minutes.

Add turmeric powder. Mix well.

Cook for a minute and then remove from the heat.

Blend the milk with stick blender or in the mixture. Strain and remove in a bowl.

Pour in the serving glass and serve hot or cold.

Sattu,dates masala milk with turmeric is ready.
Nutrition
Calories:
387
kcal
|
Carbohydrates:
36
g
|
Protein:
15
g
|
Fat:
21
g
|
Saturated Fat:
5
g
|
Cholesterol:
24
mg
|
Sodium:
113
mg
|
Potassium:
685
mg
|
Fiber:
4
g
|
Sugar:
25
g
|
Vitamin A:
395
IU
|
Calcium:
324
mg
|
Iron:
1.7
mg