Baked Nachos is an all-time favorite in my family. It is full of traditional Mexican flavor. It is a good appetizer for dinner and can be served with a glass of drink.
Baked Nachos consists of Corn chips layered with kidney bean mixture. Cheese is sprinkled over it and the nachos are baked till the cheese melts. (you can use cheese as per your requirement. I do not want more cheese).The blend of cheddar and mozzarella cheese tastes good. However, you can use the cheese of your choice. Top the baked nachos with salsa and guacamole. You can also serve a dollop of sour cream on top. (I haven't in this recipe)
Keep the kidney bean mixture, salsa, guacamole and sour cream ready. Just before serving, assemble the nachos with kidney bean mixture and cheese and then bake. Serve immediately with salsa, guacamole, and sour cream.
I find the baked nachos to be similar to our papdi chaat where wheat flour chips are topped with potato, chickpea and bean mixture and then with tomato, onions, and coriander, just like salsa. The tamarind sauce and coriander chutney enhance the flavor. Thickly whisked sweet curd is spread all over like the sour cream and is garnished with spices and chopped coriander.
I also make the healthy version of the baked nachos by using baked sweet potato chips. I will share the recipe for baked sweet potato nachos soon.
So friends make and bake this tempting and tasty baked nachos and please share your comments!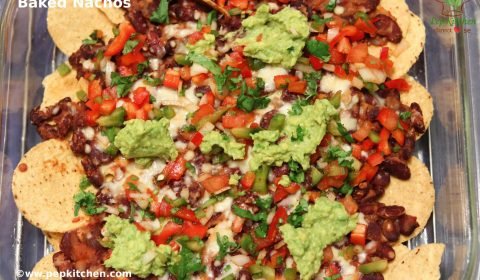 Print
Baked Nachos
Baked Nachos is a Mexican appetizer. It is baked with kidney bean mixture and cheese and topped with salsa and guacamole and is very delicious.
Ingredients
Instructions
Kidney bean mixture
Heat oil in a pan. Add garlic and onion and saute till translucent.

Add the tomato and cook till it becomes soft and pulpy.

Add the Mexican seasoning powder. (If you do not have you can use 1 tsp red chili powder, 1/2 tsp cumin powder, 1/2 tsp black pepper powder).

Add boiled kidney bean mixture and salt and mix well. Add 1/4 cup water and cook till the mixture thickens.
Salsa
In a bowl mix chopped onion, red capsicum, green capsicum, deseeded tomato. Add salt, red chili powder, cumin seed powder, black pepper powder.

Mix well and add lemon juice and chopped coriander. Mix well. The salsa is ready . Keep aside.
Guacamole
In a bowl add chopped avocado. Add lemon juice, black pepper powder, cumin seed powder and salt.

Mash with the potato masher or fork till smooth. Guacamole is ready. Keep it aside.
Assembling an baking nachos
Grease a baking tray. Arrange and spread the nachos in it.

Spread the kidney bean mixture.

Sprinkle the grated cheese mixture. I have used less cheese. However, you can use more as per your taste.

Bake the nachos for 10 minutes or till the cheese melts in a preheated oven at 200C.

Remove from oven. Sprinkle the prepared salsa and top with prepared guacamole and serve.

Enjoy the baked nachos.
Nutrition
Calories:
482
kcal
|
Carbohydrates:
51
g
|
Protein:
14
g
|
Fat:
27
g
|
Saturated Fat:
6
g
|
Polyunsaturated Fat:
3
g
|
Monounsaturated Fat:
7
g
|
Cholesterol:
23
mg
|
Sodium:
676
mg
|
Potassium:
871
mg
|
Fiber:
14
g
|
Sugar:
8
g
|
Vitamin A:
1600
IU
|
Vitamin C:
105.6
mg
|
Calcium:
410
mg
|
Iron:
4.3
mg