Baklava is made from layers of filo pastry filled with chopped nuts such as walnuts, pine nuts, pistachios, and almonds and held together by syrup or honey. It is a very rich dessert.
Baklava is usually made in a large pan. The layers of filo pastry are laid out and butter or oil is applied to the pastry sheets to give it a melt-in-your-mouth texture. The recipe calls for many layers of nuts. The filo sheets should be layered by applying butter between them.  By doing so, the pastry when baked will melt in your mouth and will be flaky.  Before the pastry and nuts are baked, the baklava is cut into pieces, mostly diamond or square. If you do not have filo pastry, you can also use samosa Patti or spring roll sheets that are available in the market.
Once the pastry is baked, the syrup made with honey and lemon is poured over the top. The dish is then left to sit, allowing the liquid to soak in. This gives baklava its dense, syrupy texture. Besides honey and lemon, the syrup can be also flavored with other flavbors such as rose water, orange juice or cardamom and cloves.
I find Baklava to be similar to the Indian sweet "Ghari" where the all-purpose flour sheet is filled with crushed nuts, sugar, and cardamom and then fried and soaked with ghee (clarified butter).
The Baklava is very easy to make at home. I bet that you will enjoy the homemade baklava more as it is less sweet. It is also more economical.
Baklava can be enjoyed as a dessert after a good meal or you can also enjoy it with a cup of tea or coffee.
So friends try out this delicious, rich, traditional dessert and please share your reviews with me.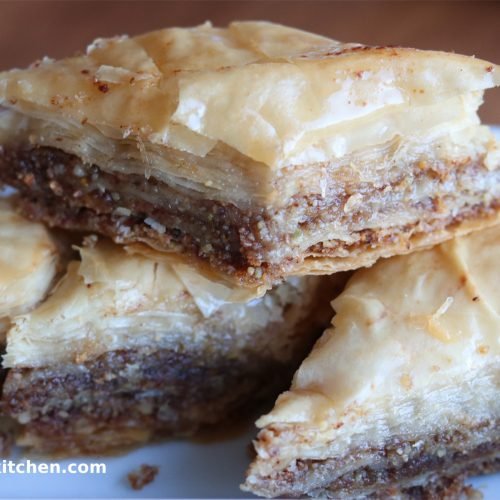 Print
Baklava
Baklava is the traditional Middle Eastern dessert made from layers of filo pastry filled with chopped nuts – usually walnuts, pine nuts, pistachios and almonds – and held together by syrup or honey.
Instructions
First, make the syrup. In a pot, add sugar, water, and honey. Bring to a boil over high heat, stirring until sugar is dissolved, then reduce heat to low and boil an additional 5 min.

Add lemon juice. Mix well. Remove from heat and let syrup cool while preparing baklava.


In a plate add the chopped nuts (almonds, walnuts, pistachio). Or add the nuts as per your choice.

Grind the nuts coarse and remove in a bowl. Add cinnamon powder and powdered sugar.

Take the filo pastry sheets and trim it to the size of the pan to be used. I have used a rectangular 8"x6" pan.

Cover the pastry sheets with a damp cloth to prevent from drying.

Grease the pan with the melted butter with the help of a brush.

Place a filo pastry sheet in the greased tin. Brush it with melted butter. Place other filo pastry sheet over it and brush it with melted butter. Similarly, place other eight pastry sheets over it.

Sprinkle the powdered nut mixture over the buttered sheets generously.

Place a filo pastry sheet over it and brush it with butter. Place again five more sheets of filo pastry applying butter on it.

Again put the powdered nut mixture on the entire surface.

Place five more sheet applying butter on them. Again sprinkle the powdered nut mixture on the buttered sheets. Place ten more sheets applying butter in between.

Cut the pastry into the diamond.

Bake the pastry in a preheated oven at 180 C for 1 hour and 15 minutes or the top surface turns golden.

Remove from oven and immediately pour cooled syrup evenly with the help of spoon over the hot baklava. This will ensure that it stays crisp rather than soggy. Let baklava cool completely, uncovered and at room temp.

Nutrition
Calories:
124
kcal
|
Carbohydrates:
14
g
|
Protein:
1
g
|
Fat:
7
g
|
Saturated Fat:
2
g
|
Cholesterol:
10
mg
|
Sodium:
56
mg
|
Potassium:
45
mg
|
Sugar:
7
g
|
Vitamin A:
130
IU
|
Vitamin C:
0.4
mg
|
Calcium:
13
mg
|
Iron:
0.6
mg