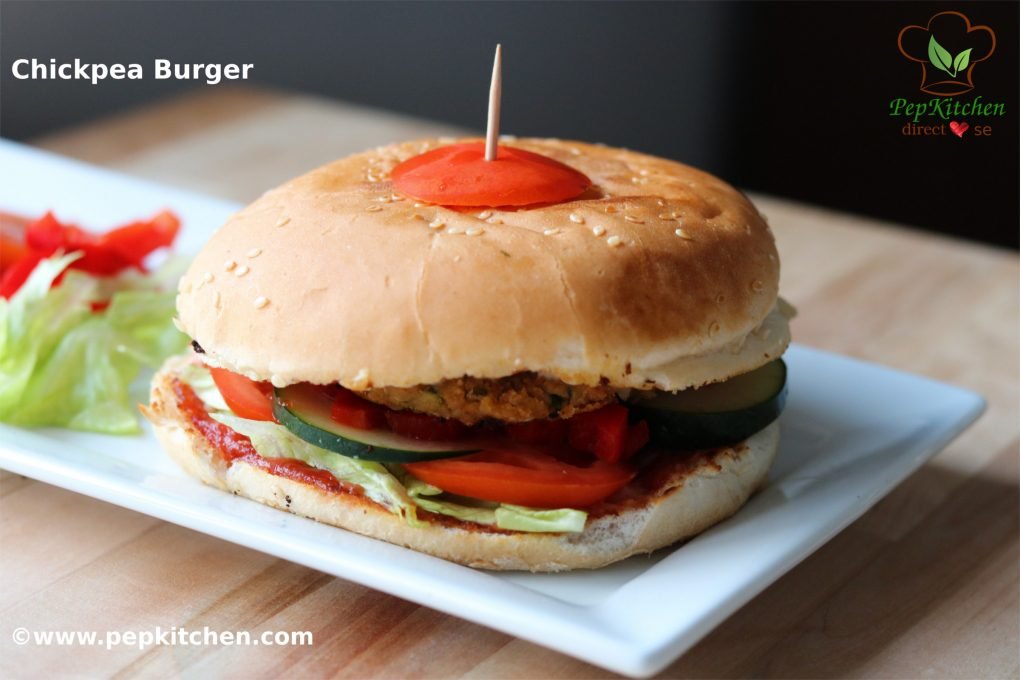 A "burger" is a sandwich made by placing veggie or meat patty between the two slices of burger buns. It is flavored with different types of sauces, ketchup or mayonnaise. Placing different veggies such as iceberg lettuce, tomato, onions, cucumber, capsicum, pickles, jalapeno or cheese adds flavor to the burger. The burger is a satisfying meal and is a filler.
Usually, the patty of the burger is made from ground meat, chicken, turkey, beef.
A veggie burger is made with patty made from potatoes, sweet potato, beans, tofu, paneer, chickpea.
Today I am sharing with you the recipe for a burger made with Chickpea patty. Chickpea is a good source of protein.
The patty made from Chickpea is very crispy from outside and soft from inside.
The French onion creamy dip gives a very creamy and caramelized taste of onions to the burger. However, if you do not have this dip you can use mayonnaise instead.
The size of the patty can be made as per the size of burger buns. I have shallow fried the patty. You can deep fry it if you want.
The burger is loaded with fresh veggies such as tomato, lettuce, cucumber, onions, capsicum. It makes the burger look colorful and gives exotic fresh flavors to the burger.
Print
Chickpea Burger
Chickpea burger is the sandwich made by placing patty made from chickpea between two slices of burger buns. The french onion creamy dip and ketchup enhances the flavors of the burger. Fresh veggies such as lettuce, cucumber, onion, tomato, capsicum are placed in between the slices of bun to add crunch to the burger.
Ingredients
Chickpea Patty
2

cup

chickpea

boiled

3

medium

potato

boiled

3

slices

Bread

for making breadcrumbs (grind them in a mixer grinder)

1

small

onion

finely chopped

1

tsp

ginger garlic paste

1/2

tsp

cumin seed powder

roasted

1

tsp

red chili powder

1/2

cup

coriander

washed and finely chopped

1

tsp

oil

salt

as per taste

oil

for greasing palm and roasting
Assembling Burger
12

burger buns

12

chickpea patty

6

tomato

sliced (around 36 slices- 3 slices per burger)

2

onion

sliced or ring removed

2

cucumber

slices (4 slice per burger)

12

cheese slices

1

cup

ketchup

or more if required

1

cup

french onion creamy dip or mayonaise

You can use mayonaise if you do not have dip

1

big

capsicum

sliced

1

lettuce

shredded

butter

for roasting

12

slices

tomato

slice of end the tomato for garnishing or half cherry tomato

12

toothpick

some extra chopped lettuce and salad

for serving
Instructions
Chickpea patty
Heat oil in a pan. Add onions to it.

Cook till translucent. Add ginger garlic paste to it. Saute.

Cook until onion softens.

In a big mixing, plate add boiled potato and bread crumbs. (grind bread in the grinder for breadcrumbs).

Grind the boiled chickpea and onion mixture in the grind to a smooth paste.

Mash the boiled potato, add chickpea onion paste, chopped coriander, red chili powder, roasted cumin powder and salt.

Mix them well.

Divide into 12 parts. Grease palms with oil and make balls and flatten the ball to make patty.

Smoothen the edges of the patty by rubbing them on the board.

Heat a non stick pan. Add oil to it and shallow fry the patty.

Cook on both the sides till golden and crisp.

The chhole tikki or chickpea patty are ready.

Serve them warm with coriander chutney or mint chutney, yogurt and mint dip or ketchup. You can also use the chhole tikki to make chat or burgers.
Assembling the Burger
Chop the veggies as shown.

Take a burger bun. Slice and cut in half. Roast with butter on both sides on a pan till golden. Roast both the parts.

Take both the roasted slice on a plate. Apply ketchup on both the sides. (2 tbsp on each slice)

Apply the french onion creamy dip or mayonnaise on ketchup on both the slices (2tbsp on each slice)

Put cheese slice. Put layers of veggie - lettuce, cucumber, tomato, capsicum.

Put the roasted chickpea patty over it.

Cover with the top slice of the burger bun. Insert a toothpick in it and put a end slice of tomato or half cherry tomato.

Serve fresh burger with salad and lettuce.