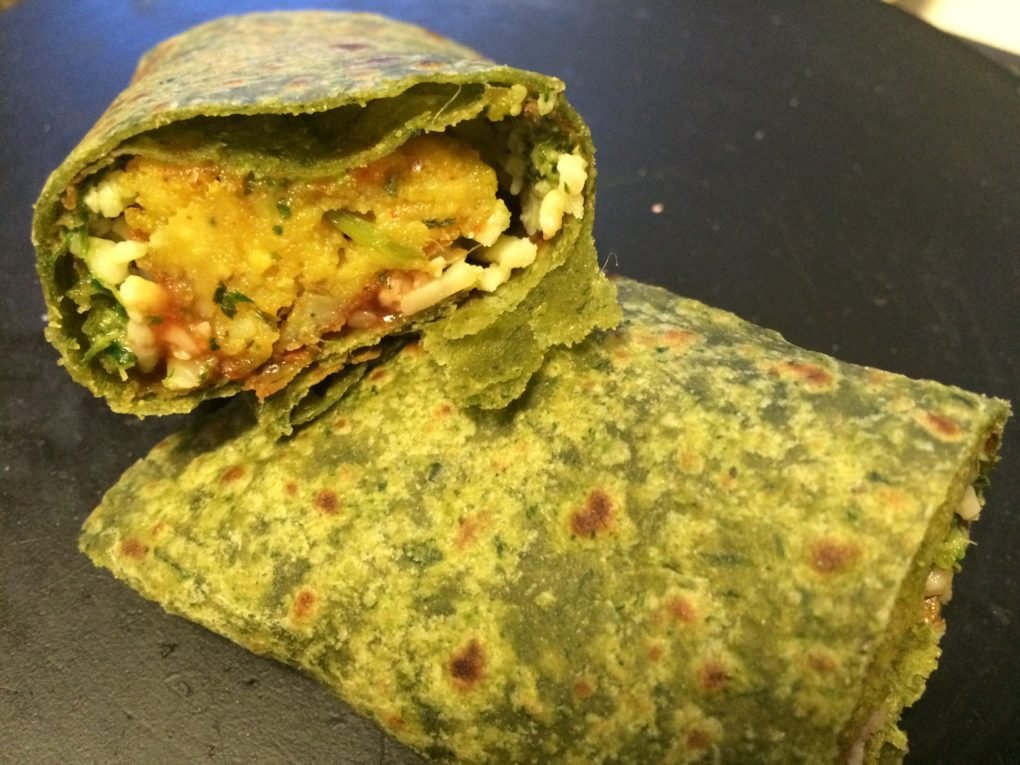 Wraps are made with a big roti /tortilla as a base. They are then filled with patty, rolls, shredded salad and some sauces.
I had made Aloo paneer rolls and palak parathas earlier. I generally have coriander pesto refrigerated in my kitchen. I had shared the recipe for making aloo paneer roll, spinach paratha, coriander pesto. Click below to get the full recipe:
Palak paratha (spinach flatbread)
I thought of making something interesting from it for my son. He has now started eating wraps and sometimes makes them on his own using cucumber, beetroot, and tomatoes in the whole wheat roti. So then thought of making this wrap.
I have made them using palak parathas as a base. Apply coriander pesto, placed the aloo paneer roll, drizzled some ketchup over it along with cheese. Then roll them together and cut it in half and serve. You can use plain roti, maize roti, tomato roti or any roti of your choice for making a wrap. Then fill them with the patty of your choice or some salads. The chutney can be any of your choices- Indian taste will require coriander garlic chutney, Italian some basil pesto, Mexican salsa, Asian some Szechwan sauce. You can customize your wrap with the choice of your spread, sauces, and fillings and can enjoy them.
This can also be carried with us for our picnic. Just pre-plan and make all the ingredients required in advance. Pack them and carry them. At the picnic mat just make them quickly and enjoy the healthy and tasty quick picnic dish.
You can involve your kids while making it and I am sure they are going to love and enjoy the process.
Print
Palak Aloo Paneer Rolls Wraps
A quick dish which can be served as a snack or made for picnic dish if you have palak paratha, aloo paneer rolls, corainder pesto, ketchup and cheese ready.
Instructions
Heat the aloo paneer rolls in the pan.

Gather the spinach parathas

Remove the coriander pesto in a bowl

On a cooking board take one paratha. Apply 2 tbsp of coriander pesto on it.

Place the heated aloo paneer roll. Apply one tbsp of ketchup over it. Sprinkle shredded cheese over it.

Roll the wrap folding from both the ends as shown.

Cut it into half and serve.