How about making something healthy and tasty with Kasuri methi? I made baked Kasuri methi puri with whole wheat flour and oats. It came out very tasty and crispy. The flavor of Kasuri methi was prominent. It reminded me of the crispy puris that my mother used to pack for me when I was in a hostel. Those were fried puris, but nowadays people want to consume less oil and are counting calories. I am one of them. I avoid deep frying most times.
My mother and father have a food processing unit in India. They have a big solar drier installed in their unit. They make kasuri methi, dried coriander, dried turmeric, potato chips, sabudana chips, dried onions, dried tomato, dried mango, gooseberry, guava and many more. They also prepare the Gujarati Chundo in it. During my recent trip to India, my mother gave me many of the products made in their unit and "Kasuri methi " was one of them. Since it was from our own company, I was least worried about the standards and quality. The methi used for drying was the best ones available in the season there. It was all processed in a hygienic condition.
When I came back home and opened the pack of methi, I was delighted with the aroma it gave.
I had earlier shared the recipe of baked whole wheat masala puri.   This time I thought of making the puris with kasuri methi and add oats and cream to it. I have not added any baking soda here. The cream used prevented the puri to get dry while they were baking. However, if you want to avoid cream you can either add ghee or oil instead.
The puris came out very crisp and were enjoyed by all at home.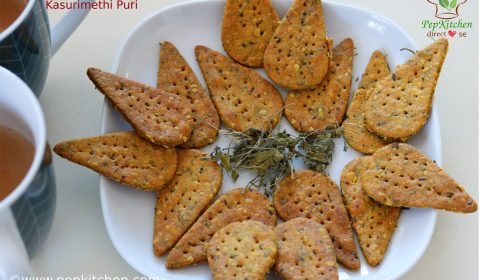 Print
Baked Whole Wheat, Oats Kasurimethi Puri/ Baked Whole wheat, Oats Dried Fenugreek Leaves Cracker
Baked Whole Wheat, Oats Kasurimethi Puri/ Baked Whole wheat, Oats Dried Fenugreek Leaves Cracker is a healthy nonfried dish made with whole wheat flour and oats. Adding Kasuri methi or dried fenugreek leaves enhances its flavor. It comes out crispy and is a treat for the calorie conscious people.
Instructions
In a mixing bowl, add wheat flour, semolina, oats, kasuri methi (crushed between palms)turmeric powder, red chili powder, black pepper powder, asafoetida, carom seeds and salt as per taste.

Add oil and cream.

Mix well . Add curd and mix well.

Knead into a stiff dough.

Divide the dough into four parts. Make balls of from it.

Take one ball on a rolling surface and flatten it.

Roll with the help of rolling pin into a big circle of 2mm thickness. With the help of cookie cutter cut into desired shapes. You can also cut into circle or squares. Prick the cut shapes with fork.

Line a baking tray with baking paper. Arrange the cut puris into the tray.

Bake in a preheated oven @ 180 C for 18-20 minutes. Flip once in between. The time of baking varies from oven to oven. keep an eye after 15 minutes and remove from the oven when it gets golden. The baked whole wheat, oats, kasuri methi puri are ready to serve. Store them in an airtight container.

Serve them with hot cup of tea or coffee.
Notes
Notes:
Try to knead a stiff dough.
Cream can be replaced with oil or ghee.
Instead of carom seeds, you can use sesame seeds or cumin seeds.
The baking time varies from oven to oven. Check after 15 minutes and remove from oven once golden.
Nutrition
Calories:
34
kcal
|
Carbohydrates:
5
g
|
Protein:
1
g
|
Fat:
1
g
|
Saturated Fat:
0.3
g
|
Polyunsaturated Fat:
1
g
|
Monounsaturated Fat:
0.4
g
|
Cholesterol:
1
mg
|
Sodium:
7
mg
|
Potassium:
27
mg
|
Fiber:
1
g
|
Sugar:
0.1
g
|
Vitamin A:
10
IU
|
Vitamin C:
0.1
mg
|
Calcium:
5
mg
|
Iron:
0.2
mg