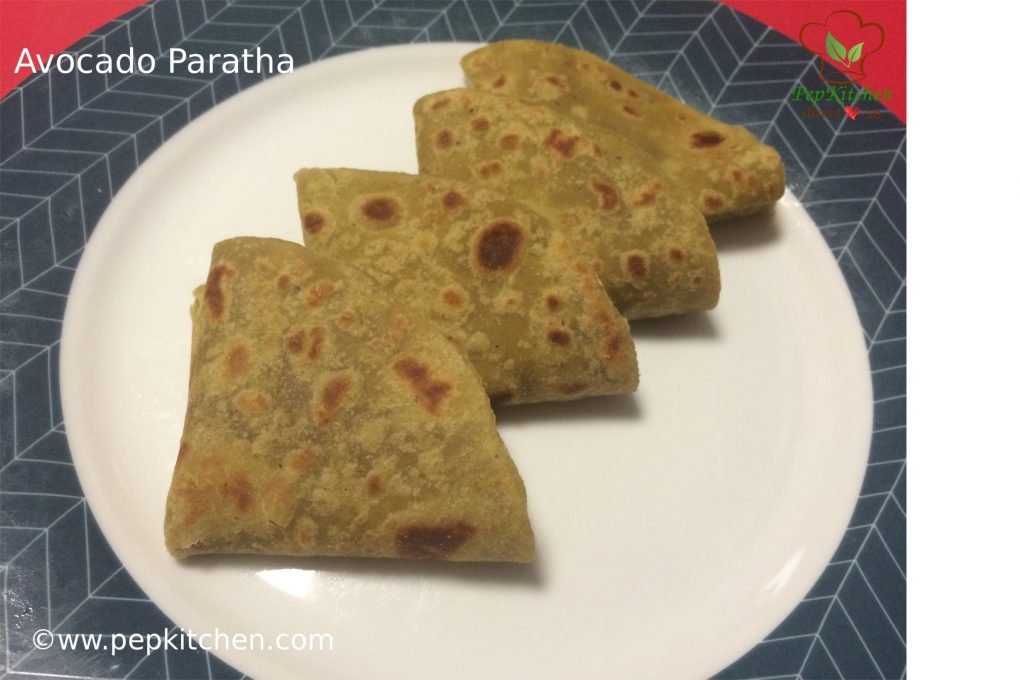 Avocado has higher fat content than the other fruits. It is fleshy and has a buttery texture. It is loaded with monosaturated fatty acids which are good for a healthy heart. Besides, avocados are rich in potassium, fiber, antioxidants and many vitamins like B, K, C and E. It is good in taste and goes well with many dishes.  It is thus used in both sweet and savory dishes.
The flesh of the avocado generally blackens when exposed to air, hence sprinkle lemon juice over it to retain the nice green color.
Besides making guacamole, Avocado is widely used in making sandwiches, milkshakes, smoothies, soup, salads,  ice cream or cakes.
Paratha is a type of Indian flatbread which is made regularly in many houses. The dough of paratha requires oil, flour, and seasoning. The simple plain paratha can be made from it. Different variations in parathas can be made by adding different flour, leafy green vegetables, pulses, mashed vegetables and spices of your choice. The parathas can be stuffed with different vegetables -potato, carrot, peas, cauliflower, cabbage or paneer and dal.
Check different parathas recipe below:
Tuvar Lilva Paratha (Pigeon Peas Stuffed Flatbread)
Palak Paratha (Spinach Flatbread)
Palak Paneer Paratha
Parath Paratha (Multiple Layered Indian Flatbread)
Moong Dal Paratha (Yellow Split Moong Dal Flat Bread)
Beet Root Paratha (Beet Root Flat Bread)
Avocado paratha is made by adding avocado pulp to the flour and requires very less oil to cook compared to other parathas. In fact, you can cook it without oil. The parathas are very soft to eat. They are quick and easy to make. They are good for breakfast. Kids love them in the lunch box. I try to make different shapes of the paratha for my son. It becomes bite size and easy to eat.
Different variants can be made by adding some fresh herbs and vegetables such as coriander, spinach, fenugreek leaves, mint leaves, boiled potato, grated carrot, grated paneer along with avocado while kneading the dough for paratha.
Other recipes with avocado are:
Eggless Whole Wheat Avocado Lemon Cupcake
Whole Wheat Avocado Cheese Straw
Whole Wheat Quesadilla With Kidney Beans
Red Cabbage Salad With Peanut Butter Dressing

Print
Avocado Paratha
Avocado Paratha is an Indian flatbread made by kneading whole wheat flour and avocado pulp together with spices. It comes out very soft and requires less oil. It is perfect for breakfast or kids lunch box.
Instructions
Wash the avocado.

Cut it horizontally with a sharp knife carefully. Scoop out the flesh from it and discard the seed and skin.

Cut the flesh into pieces. Add the spices - red chili powder, black pepper powder, cumin seed powder, and salt. Add lemon juice and mix well. Mash into pulp with potato masher or fork.

Add whole wheat flour and oil. Mix well.

knead into a semi-soft dough. The flour will be absorbed by the avocado pulp. However if you find it dry while kneading, then add little water and knead. Cover and let it rest for 15 minutes.

Make balls from the dough. Take a ball and flatten it. Dust with flour.

Roll into a 2 mm thick circle.

Heat the pan and put the circle into it. The bubbles will start to form.

Flip to another side and cook. Apply a very little oil.

Flip and cook. The paratha will puff up and have nice golden spots.

The avocado paratha is ready. Similarly, make remaining paratha.

Serve avocado paratha with curd, pickle, raita, chundo, or ketchup.

To make for kids lunch box. Roll the ball into a big circle. Cut into the desired shape with a cookie cutter. Roast them in the pan. The mini avocado coriander paratha is ready to be packed for lunch box.
Nutrition
Calories:
85
kcal
|
Carbohydrates:
14
g
|
Protein:
3
g
|
Fat:
3
g
|
Saturated Fat:
0.4
g
|
Polyunsaturated Fat:
1
g
|
Monounsaturated Fat:
2
g
|
Sodium:
2
mg
|
Potassium:
144
mg
|
Fiber:
3
g
|
Sugar:
0.2
g
|
Vitamin A:
25
IU
|
Vitamin C:
2.5
mg
|
Calcium:
10
mg
|
Iron:
0.9
mg