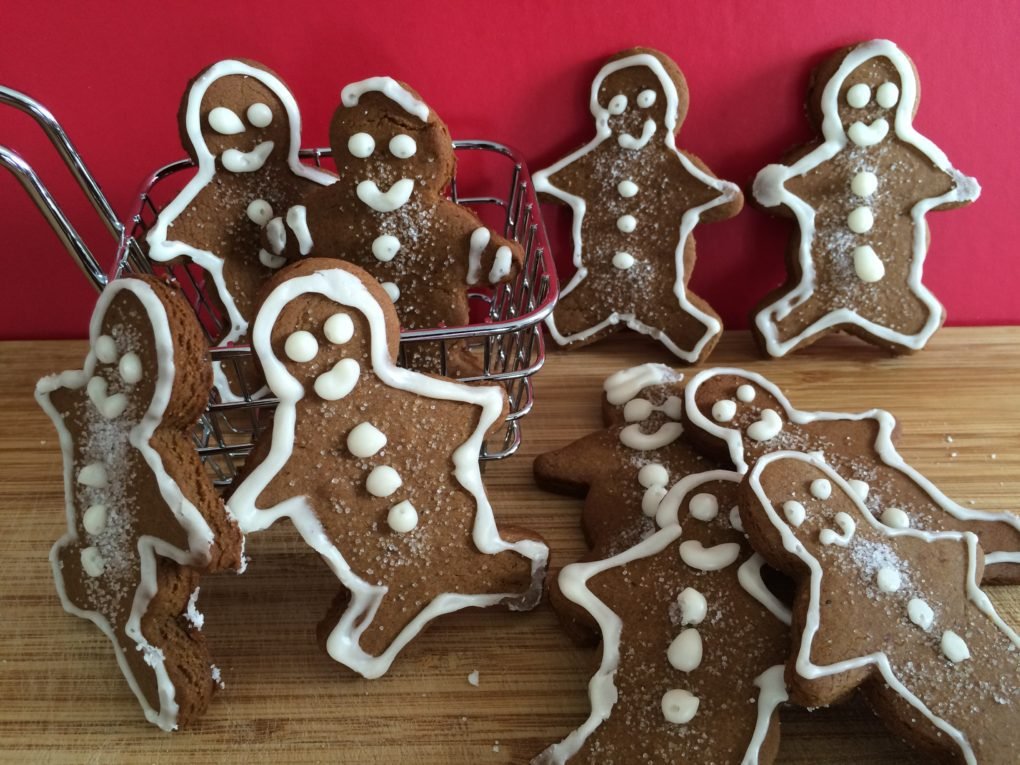 Gingerbread is a type of baked dish that uses spices such as ginger, cloves, cinnamon, nutmeg and black pepper. It is sweetened with molasses, honey, golden syrup or brown sugar. Gingerbread can be as soft as a cake loaf or something crunchy like a biscuit. As per Wikipedia, A gingerbread man is a biscuit or cookie made of gingerbread, usually in the shape of a stylized human, although other shapes, especially seasonal themes (Christmas, Halloween, Easter, etc.) and characters. Gingerbread dates from the 15th century, and figural biscuit-making was practiced in the 16th century.
These cookies are now most popular during Christmas. Christmas comes in cold season and these spices in the cookies help the body to keep warm. These are thus consumed with hot tea or milk. Just dip them in the tea or milk and enjoy the spiced cookie.
Christmas is the season of joy, fun, family time, sharing treats and gifts and singing carols. The houses waft with the Christmas goodies being baked. Cakes, cookies, chocolate and more such as Banana bread, Carrot cake, Plum Cake, Coconut cookies, Walnut and honey cookies,  Cheese straw, Chocolate cake, Chocolate cup cake, Strawberry cupcake, Whole wheat cheeselings.  I am tempted by the smell of the Gingerbread cookies displayed on the bakeries. The houses and streets are decorated with lights and Christmas trees. Children are busy decorating theirChristmass trees.  The parents are busy making goodies and wrapping gifts.
This time my son wanted me to bake Gingerbreadman cookie for Christmas. He wanted to keep it in a plate for Santa to eat, when he delivers him a gift. He had finished decorating his Christmas tree and now wanted to help me in baking. So today we both went to the market to get the ingredients for gingerbreadman cookie. He was too excited to make it with me. This is a good way to keep them busy during the Christmas holidays.
As I was baking at home, I wanted it to be healthy and so have used wholewheat flour in making it. Molasses give it a traditional taste and colour, but molasses may not available at all places. Since molasses is made from sugar cane, it tastes like jaggery. You can use honey, golden syrup or maple syrup in place of molasses.  You can used fresh grated ginger in making the cookie. I have used the powdered ginger. I have replaced egg with the flaxseeds powder.
These cookies can be eaten plain. Since it was Christmas time I have decorated the cookie with simple icing. You can just mark the eyes and smile on the gingerbreadman cookie before baking it or decorate it with icing, edible icing pens, sugar candies, M & Ms, sprinkles etc.  If you want to put it as a decoration on the Christmas tree then prior to baking it make a hole on the head of Gingerbreadman with a toothpick and bake it. The thread can be passed through the hole and the Gingerbreadman can be used as a decoration for the Christmas treel
Besides Gingerbreadman, these cookies can be shaped using different cutters such as Christmas trees, bells, snowflakes, reindeer, etc.  Decorate it with icing and wrap and gift them to your dear ones.
Wishing you all a very Happy and Merry Christmas !!
Print
Eggless Whole Wheat GingermanBread Cookie
A popular and healthy Christmas Gingerbread man Cookie made with whole wheat flour and spices (ginger, cinnamon, nutmeg, black pepper) and sweetened with molasses and brown sugar.
Instructions
Dry ingredients Mix: In a bowl sift whole wheat flour, maida, ginger powder, cinnamon powder, nutmeg powder, black pepper powder.

Wet Ingredients Mix: In another bowl take soften butter, brown sugar, and flax seed powder. Beat them well with the electric beater for 3-4 minutes until light and fluffy.

Add the molasses and beat it again on high speed for 3-4 minutes.

It should be light and fluffy.

Now fold in gently the dry ingredients in two batches. Mix them with a spatula.

Now mix them with your fingers and knead to make a soft dough.

Shape it in a disc and clingwrap it. Fridge it for 30 minutes. If possible you can cool it more.

Remove from the fridge and divide into four parts and shape it into ball . Dust it with flour and roll it to 4mm thickness. (Since whole wheat flour is used, the dough can become dry while rolling. Just put some milk and smoothen it and then dust it with flour and roll). Its time for asking your kids help now. My son shaped the cookie with his new gingermanbread cookie cutter.

Similarly roll the other dough and cut it in similar way.

Line a baking tray with butter paper and place the cookies on it. Sprinkle some regular sugar over it.

Bake it in a preheated oven @ 170 C for 10 minutes or just golden. Do not bake more. The cookies will become hard. They will be soft when removed from oven. Place them to cool.

In the meantime prepare icing. Take icing sugar in a bowl. Add milk and vanilla essence to it. Mix them well. Put them in a piping bag or a simple cone make from plastic sheet or butter paper.

Decorate the cooled cookies as per your choice.

They are ready to serve , store and wrap. Just gift and eat them. Enjoy with a hot cup of milk or tea.
Notes
Note:
Whole wheat flour can be replaced entirely with all purpose flour  or in 50: 50 ratio of both flours.
Molasses can be replaced with honey, golden syrup or maple syrup.
Brown Sugar can be replaced with regular sugar.
If the dough becomes dry then add some milk and smoothen it.
If it is sticky then just chill in the fridge and use it. The more you chill the dough, it will be easy to roll it.
You can roll the dough between the plastic sheets.
Just bake the cookie for 10 minutes at 170 C. If you bake more then the cookie will become hard. Or bake it for 12 minutes at 160 C.
Nutrition
Calories:
123
kcal
|
Carbohydrates:
22
g
|
Protein:
2
g
|
Fat:
4
g
|
Saturated Fat:
2
g
|
Polyunsaturated Fat:
0.2
g
|
Monounsaturated Fat:
1
g
|
Cholesterol:
9
mg
|
Sodium:
70
mg
|
Potassium:
132
mg
|
Fiber:
1
g
|
Sugar:
12
g
|
Vitamin A:
100
IU
|
Calcium:
20
mg
|
Iron:
0.9
mg